Volkswagen Passat B5 is a model of the 5th generation of cars of the Passat family. Produced in 1997, 1998, 1999, 2000, 2001, 2002, 2003, 2004 and 2005. After the 2001 update, the people received the name Passat B5 + or Passat GP. In this article we will present a designation of the fuses and relays of the Volkswagen Passat B5, complete boxes diagrams with the purpose of the elements and a photo of an example of execution. Separately, we highlight the fuse for the cigarette lighter and the fuel pump.
The current designation of fuses and relays may differ from the one shown and depends on the equipment and year of manufacture of the vehicle.
Passenger compartment
Fuse box
Located at the end of the dashboard on the driver's side behind the protective cover.
On the back of the cover there should be an up-to-date fuse assignment diagram or a brochure with a description.
Diagram
Assignment
1

5A Heated washer nozzles

2

10A Direction indicators

3

5A P comfort system, cruise control, climate control, air conditioning, seat heating control modules, day / night light mirror, control module and multifunction steering wheel control unit

4

5A License plate lighting

5

10A Instrument panel, heated seats, automatic transmission display, mirror switch, pump Airbag outside temperature gauge, navigation system, parking lights

6

5A Central locking, reading lamps

7

10A ABS system or Reversing lights, Speedometer, Vehicle speed sensor

8

5A Phone

9

10A Heated mirrors and door locks

10

5A Headlight range control, CD – changer

11

5A Cruise control [automatic transmission], instrument cluster

12

10A Built-in diagnostics

13

10A Stop lights

14

10A Interior lighting, reading lamps, anti-theft system, passenger visor mirror

15

10A Instrument panel, automatic transmission, air conditioning, navigation system

16

5A ABS system

17

10A Heated door locks

18

10A Right high beam

19

10A Left high beam

20

15A Right low beam, headlight corrector

21

15A Left low beam, headlight corrector

22

5A Right side lights

23

5A Left side lights

24

25A Windshield wipers, washer pump.

Wiper breaker relay

25

30A Heater fan, air conditioner

26

30A Heated rear window, heated mirrors, air recirculation

27

15A Rear wiper

28

15A Fuel pump

29

15A Engine management

30

20A Electric sunroof

31

20 / 15А Reversing lights, cruise control, automatic transmission, diagnostic socket

32

20A Engine management

33

15A Cigarette lighter fuse

34

15A Engine management (ignition / injection)

35

30A Trailer socket

36

15A Fog lights

37

15A Telephone, radio

38

15A Adjustment of mirrors.

Remote unlocking of the fuel filler flap.

Window lifters.

Central locking.

39

15A Emergency lighting (emergency gang)

40

25A Signal

41

25A ABS system (hydro modulator / pump) or additional cigarette lighter

42

40A Auxiliary Air Fan 25A Radio

43

5A S-pin 10A Motor controls

44

30 / 15A Heated seats
Fuse number 33 at 15A is responsible for the cigarette lighter. And for the gas pump – 28 to 15A. Recall that several more elements are also responsible for the fuel supply.
Main relay box
It is located under the dash on the driver's side, not far from the steering rack.
Diagram
Decoding R
Horn relay

Intermediate relay contact X

III

Wiper relay

IV

Fuel pump




relay Glow plug relay

Free

Free

A

Fuse

B

Fuse
Decoding Z
Radiator Fan Relay (Air Conditioning)

Clutch relay

Magnetic Clutch Relay (Air Conditioning)

Air conditioner relay

Fuel pump relay for diesel engines

External lighting relay




Taxi equipment

Headlight relay

Glow plug relay

Free

Fog lamp relay

Communication relay

Starter relay

Starter lock relay
Additional relay box
Installed on cars with an increased level of electrical equipment and is called eight – pin. Located behind the main relay box.
Photo for example
Diafram
Designation
Free

Relay ABS / EDS / ESC

Relay ABS / EDS / ESC

Fan relay 80 W




Fan relay 300 W, 1 stage

Fan relay for maximum speed

Fan relay 300 W, stage 2

A

Fan fuse, 5A

B

Fan fuse, 30A

C

Hydraulic pump fuse, 50A
Engine compartment
Located under the protective cover, next to the control box.
Photo for example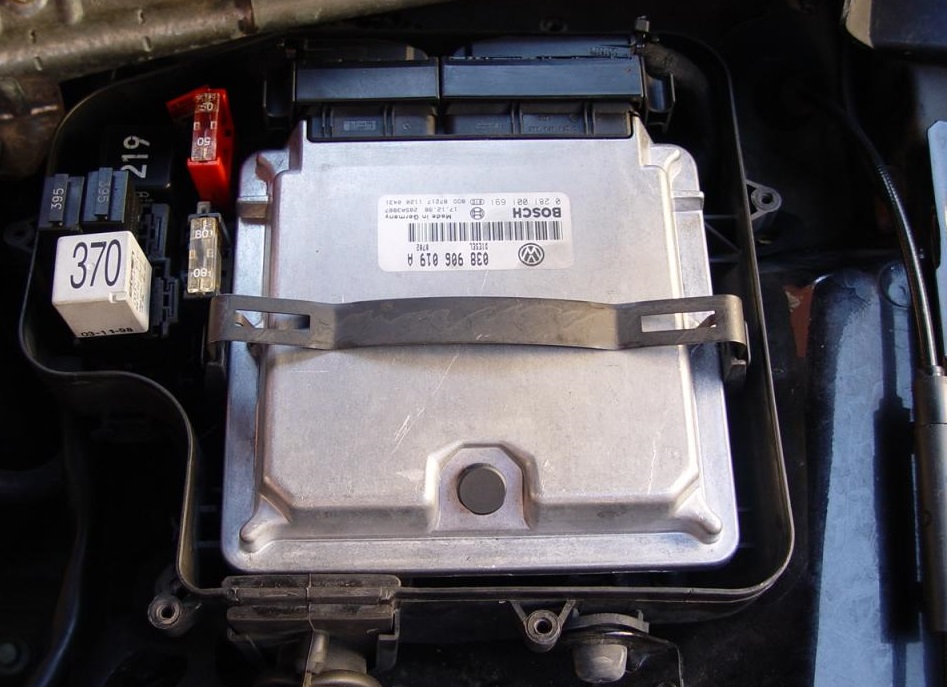 Diagram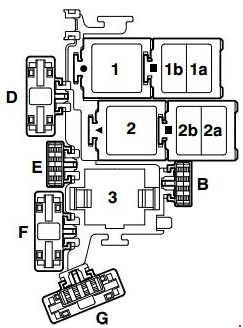 Relay designation
Motronic Engine Control Module Power Relay (167), engine code BDP

Secondary air pump relay (AIR) (373), (100)

Motronic Engine Control Module Power Supply (429), (219) / Auxiliary Coolant Pump Relay (EC) (53), (411)
Purpose of fuses
| | |
| --- | --- |
| B | 10A Fuse for injectors (S116) |
| B | 5A Auxiliary engine coolant pump fuse |
| D | 50A Secondary air pump fuse (S130) |
| E | 40A Fuse for ignition coil terminal (S115) |
| F | 5A Fuse for engine control module (ECM) (S102) |
| G | 10A Fuse for engine electronics (S282) |
We have posted a video on our YouTube channel. Watch and subscribe.
That's all, we hope that this material was useful to you. And if you have any questions, write them in the comments.