The 1st generation Renault Laguna was produced in 1994, 1995, 1996, 1997, 1998, 1999, 2000 and 2001 with sedan, hatchback, station wagon bodies. Engine options: gasoline and diesel. We will show the location of the Renault Laguna 1st generation fuse boxes, describe their diagrams and purpose.
Engine compartment
The fuses are located next to the battery, on the left side.
Diagram

Inverted in relation to the photograph.
Designation
40A – Headlight washer motor

30A – ABS

30А – ABS

40A – Electric fan of the engine cooling system, left

40A – Electric fan of the engine cooling system, right

30A – Injection system or preheating of a diesel engine (70 A)

70A – Relay for turning on the electric windshield heater

60A – "+" before the ignition lock with anti-theft system

60A – Relay after ignition lock

60A – "+" battery, interior

60A – Center console

60A – Disconnection of electricity consumers
Relay elements are located separately.
Passenger compartment
This boxes is located in the lower left part of the dashboard.
The back of the cover will be marked with the current circuit description and spare fuses.
Diagram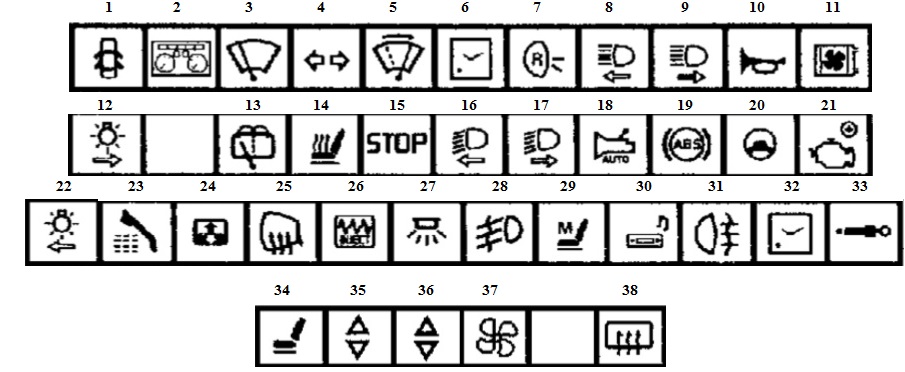 Full box photo
Photo
Designation
| | |
| --- | --- |
| 1 | 25A Central locking |
| 2 | 15A Instrument cluster / airbag / seat belt pretensioners / decoder / burglar alarm / driver seat memory |
| 3 | 25A Windshield wiper and washer motors |
| 4 | 15A Direction indicators / Alarm |
| 5 | 25A Reverse electromagnetic braking of the windshield wiper motor |
| 6 | 10A Clock / storage devices of electronic units and radio receiver / electric drive of rear-view mirrors / alarm siren |
| 7 | 10A Reversing lights (for models with an automatic transmission) |
| 8 | 15A High beam left headlight |
| 9 | 15A High beam of the right headlight |
| 10 | 25A Buzzer |
| 11 | 20A Electric fan of the engine cooling system |
| 12 | 10A Right side lamp / buzzer-signaling device about non-switched off lighting / instrument panel illumination / instrument panel illumination dimmer / day-night switching relay / lamp health control unit |
| 13 | 20A Rear window wiper motor / rear window defroster / electric windshield defroster / reversing lights / buzzer – light off / heater controls |
| 14 | 20A Seat heaters |
| 15 | 15A Brake lights / cruise control / relay-interrupter of direction indicators and alarm / lamp health control unit |
| 16 | 15A Low beam left headlight / remote headlight range control |
| 17 | 15A Low beam of the right headlight |
| 18 | 5A Automatic transmission |
| 19 | 5A ABS |
| 20 | 5A Adaptive power steering |
| 21 | 30A "+" after ignition switch |
| 22 | 10A Left rear side light / lighting / lamp health control unit |
| 23 | 5A Mobile phone |
| 24 | 30A Roof hatch motor |
| 25 | 10A Heated side mirrors |
| 26 | 2A injection system |
| 27 | 15A Interior and trunk lights / child safety switch / burglar alarm |
| 28 | 25A Fog lights |
| 29 | 25A Driver's seat memory |
| 30 | 20A Radio / heater controls / Renault lagoon cigarette lighter fuse 1. |
| 31 | 10A Rear fog lamp |
| 32 | 10A Clock and display light / burglar alarm / driver's seat position memory |
| 33 | 15A Shock absorbers of variable stiffness |
| 34 | 40A Power passenger seat |
| 35 | 40A Passenger door power window |
| 36 | 40A Power window driver's door |
| 37 | 50A Air conditioning system |
| 38 | 40A Heated rear window |