Renault 21, a mid-size car of the French company, was produced in 1986, 1987, 1988, 1989, 1990, 1991, 1992, 1993 and 1994. In the USA and Europe it was sold under the name Renault Nevada, and in England – Savanna. We will show where the main unit with relays and fuses in Renault 21 is located, a box diagram with a description of the purpose of the elements.
Passenger compartment
Fuse box
It is located under the steering rack, behind the protective cover.
The version depends on the year of manufacture, equipment and engine type.
The current description of the elements is described at the bottom of the boxes with a colored sticker. It looks something like this.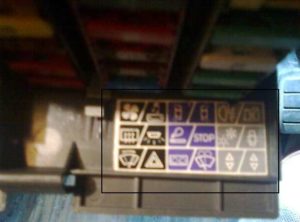 We present the most common scheme options.
Type 1
Diagram
Designation
20A – Heating

10A – Radio / Motor fan

20A – Heated rear window

5A – Clock, plafonds, dashboard

10A – Intermittent wiper

10A – Alarm

5A – Left side lights

5A – Right side lights

10A – Cigarette lighter

10A – Stop signal

10A – Dashboard, reversing lights

15A – glass cleaner

7.5A – Rear fog lights

– Not used

30A – Air conditioner

25A – Electric door lock

30A – Left power window

30A – Right power window, sunroof
The fuse number 9 is responsible for the cigarette lighter.
Type 2
The photo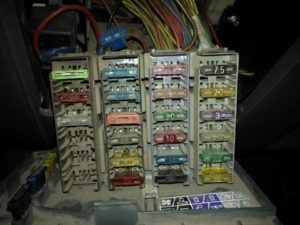 Diagram
Assignment
Automatic transmission – 5A

Air conditioner – 30A

Air conditioner – 30A

–

–

–

Fan – 20A

Clock, radio receiver – 10A

Clock, rear window cleaner – 20A

Front snow blower – 10A

–

Turn signals, alarm – 10A

Front left side lights, glove box lighting – 5A

Front right side lights, fog lamp relay – 5A

Cigarette lighter, rear window washer – 10A

Stop signals – 10A

Reversing lights – 10A

Front glass cleaner, cigarette lighter – 10A

Rear fog lights – 7.5

Moto fan – 20A

Wheel anti-blocking system – 3A

Central locking – 25A

Left window regulator – 30A

Right window regulator – 30A
The fuse number 15 is responsible for the cigarette lighter.
Type 3
Diagram
Relay
They are located around the fuse box.
Box diagram with relays
Functions
Windshield wiper timer

Door Lock Timer

Heated rear window

Buzzer reminder lamps

Flasher assembly

Front fog light relay

Rear fog light (shnut)

Front fog light (shnut)

Headlight relay