The business car Peugeot 605 was produced in 1989, 1990, 1991, 1992, 1993, 1994, 1995, 1996, 1997, 1998 and 1999. During this period, the car was restyled. We will present a description of the Peugeot 605 fuse boxes, their diagrams and locations.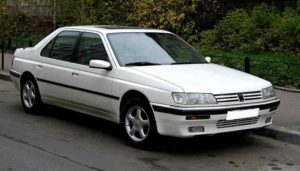 Attention, the number and location of fuses, as well as their naming, may differ from the one presented and depends on the configuration and year of manufacture of your car.
Engine compartment
In the engine compartment, the unit is located under a protective cover.
It looks something like this.
Assignment
2 fuses 30 A each: motor-fan group;
1 fuse 20 A: compressor warning lamp;
1 x 50 A fuse: ABS system;
1 shunt: wheel anti-lock system;
1 fuse 30 A: spare.
Passenger compartment
This unit is located under the dashboard at the bottom. To access the large fuse box cover, twist the two fasteners a quarter to the side and remove it. There on the back, the current fuse diagram.
Diagram
Designation
F1 10A ABR system

F2 10A Stop signals, interior lighting, cruise control, ABS, telephone.

F3 5A Spare fuse.

F4 10A Control unit ABC.

F5 10A Interior temperature sensor.

Light 'rear-view mirrors, clock or on-board computer, reading lights,




heater, coolant level sensor, remote control signal receiver, central locking, radiator fan relay, glass lifters.

Luke.

F6 5A Fog lights.

F7 20A Spare.

F8 30A Spare.

F9 30A Glass lifters.

Glass cleaner.

F10 10A License plate lights, front parking lights, warning light not turned off, switch lights.

F11 15A Heated lambda probe.

F13 15A Hazard warning light.

Telephone.

F14 5A Left tailgate, backlight control, radio receiver, instrument panel lighting, heater switches, sunroof switch.

F15 15A Fuel pump.

F17 30A Heated seats.

F18 5A Right rear marker, clock or trip computer, marker lamp for side lights.

cigarette lighter lighting, interior lighting switches.

F19 15A Damper damping control unit, cruise control unit.

F21 30A Glass front door lifters, sunroof.

F22 20A Headlamp washers.

F23 15A Reversing lights, fuel filter condensate level sensor, power steering, thermal switch for fan and radiator cooling.

F25 30A Rear side door power window switches.

F26 20A Lit.

Sound signal.

F27 10A Clock, on-board computer, interior lighting, trunk lighting, fuel supply indication, warning lights on the doors.

F28 Not used.

F29 30A Rear side door power window switches on the driver's panel.

F30 30A Adjuster for the front left seat.

F32 20A Antenna.

F33 30A Heated rear window and exterior mirrors.

F34 30A Central locking, locking, burglar alarm.

F35 30A Front right seat adjuster.

F36 30A Relay for air conditioning.
The fuse number 26, 20A, is responsible for the cigarette lighter.