Nissan AD is a utility vehicle. The most popular was the 2nd generation of this series with the Y11 body marking. Years of release 1999, 2000, 2001, 2002, 2003, 2004 and 2005. Since 2006, the production of the third generation Nissan AD (Y12) began. In this publication, we will show where the Nissan AD fuse and relay boxes are located, their diagrams with a description of the purpose of the elements.
Various designs of the presented boxes are possible. We will show you the most common options.
Passenger compartment
Located to the right of the steering rack, behind the glove compartment. The relays should also be located there (the blower fan relay is marked in the figure).
Type 1
Usually, on the back of the cover there will be a description in the form of hieroglyphs.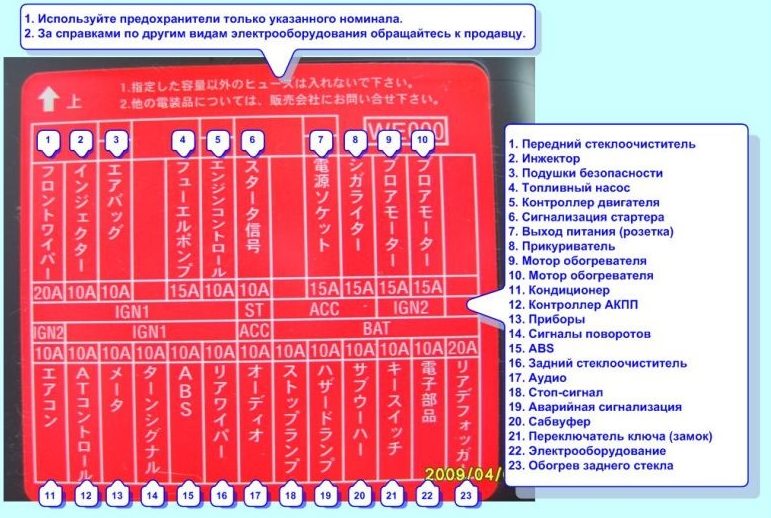 The fuse number 10, 15A, is responsible for the cigarette lighter.
Type 2
The fuse number 4 at 15A is responsible for the cigarette lighter.
Engine compartment
Fuse box
This unit is located next to the battery. The diagram will be on the top of the lid.
Type 1
Type 2
Type 3
Relay box
Located near a barrel with washer fluid.
Photo
Assignment
wiper deicer – wiper relay

fog lamp – fog lamp relay

horn – signal relay

head lamp RH – headlight relay (right side)

air con – air conditioner relay

rad fan2 – cooling fan relay 2

motor – motor relay

head lamp LH – headlight relay (left side)

inhibit – ignition relay

rad fan1 – cooling fan relay 1
Is there anything to add to the material? Write in the comments.