The Nissan Cube is a Japanese – built subcompact van. For the entire period, three generations of this series were released. We present the description of fuses for the first generation Nissan cube az10. Nissan cube az10 was produced in 1998, 1999, 2000, 2001, 2000 and 2003. After that, it was replaced by the 2nd generation.
For all cars of the Nissan cube family, the placement of two boxes with fuses and relays is characteristic. One in the cabin, next to the steering rack, behind the protective cover, and the other under the hood, next to the battery.
Passenger compartment
 photo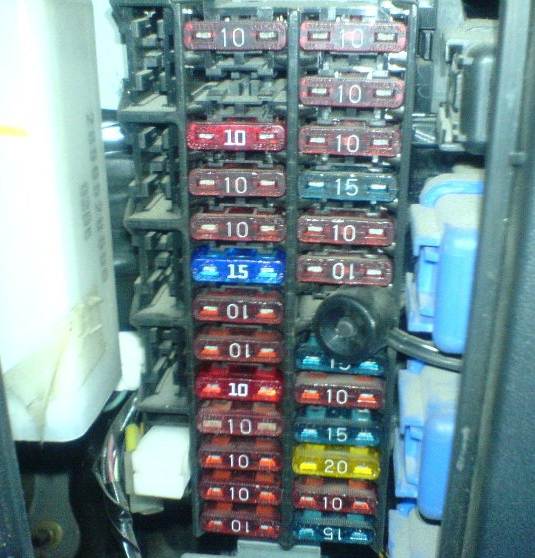 Diagram
Designation
the first column
10A is "starter signal".
15A – "network 100B"
10A – "glass-hatch-lift"
10A – "light in the cabin"
10A – "brake lights"
15A – "heating the brushes"
10A – "sound signal"
15A – "fog lamp"
10A – " emergency lights "
10A -" reversing lamps "
10A -" turn signals "
10A -" dashboard "
10A -" ABS "
second column
10A – "gearbox"
10A – "airbags"
10A – "ECU"
15A – "fuel pump"
10A – "injector"
10A – "air conditioner"
empty line
15A – "fans"
10A – "radio tape recorder"
15A – "electric sockets, cigarette lighter "
20A -" wipers "
10A -" mirror, rear wiper "
15A -" heating (glass) "
The fuse number 23, 15A, is responsible for the cigarette lighter.
Engine compartment
the photo
30A ABS

10A Engine

10A Generator

15A Headlights (right side)

15A Headlights (left side)

30A Electro fan

30A Electric lifts

30A ABS

10A Audio system

10A injection system

30A injection system

25A Air conditioner fan

45A Power steering
Check the assignment of your fuses with the current description on the box cover.