Volkswagen LT is a series of small and medium-duty trucks and minibuses produced with various modifications in two generations, both with gasoline and diesel engines. The entire LT model range differs from each other in the same weight and base. The numbers in the title indicate the gross vehicle weight. For example LT28 – 2800 kg or LT35 – 3500 kg. In this article we will provide information with a designation of fuses and relays Volkswagen LT with boxes diagrams and their locations for the second generation Volkswagen LT produced in 1996, 1997, 1998, 1999, 2000, 2001, 2002, 2003, 2004, 2005 and 2006. Separately, we highlight the cigarette lighter fuse.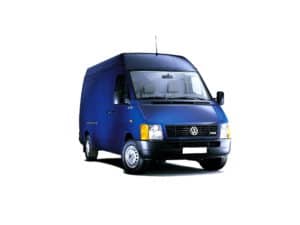 The purpose of the elements in the boxes may differ and depends on the year of manufacture and the level of electrical equipment of your Volkswagen LT.
Dashboard fuse box
It is located under the steering rack behind the protective cover.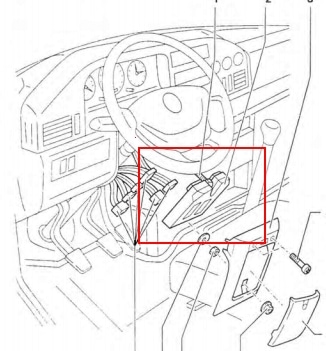 Diagram
Assignment
1

Right tail light and right side light – 15 A.

2

The high beam of the right headlight – 15 A.

3

Main beam of the left headlight, signal lamp – 15 A.

4

Reversing lights – 15 A.

5

Stop lights – 15 A.

6

Wiper motor – 20 A.

7

Heated rear window, signal – 15 A.

8

Lamps,

cigarette lighter

, radio tape recorder – 20 A.

9

Clock, hazard warning lights, parking lights – 20 A.

10

Illumination of the instrument panel, license plate lights, daytime running lights – 15 A.

11

Left tail light and left parking light – 15 A.

12

The dipped beam of the right headlight – 15 A.

13

Low beam left – 15 A.

14

Fog lamp, rear fog lamp – 15 A.

15

Radio tape recorder – 15 A,

16

Reserve

17

Reserve

18

Reserve
The fuse number 8, 20A, is responsible for the cigarette lighter.
Individual relays can be located under this fuse box (relay glass wiper, cornering, etc.).
Box under the seat
An additional relay and fuse box is located under the front passenger seat.
Its performance depends on the configuration.
Photo for example
There may be the following elements:
Heater fan – 30 A

Rear window heating – 30 A

Autonomous heater – 25 A

Electric windows – 25 A

ABS control unit – 10 A

Central locking – 15 A

Electric mirrors – 10 A

Fuel pump – 30 A

Additional battery relay – 15 A

Trailer direction indicator relay – 10 A

Differential lock – 15 A

12 volt socket – 20 amp

Air conditioner – 10 A

Heated seats – 15 A
In the engine compartment, there can be an additional unit in the area of ​​the battery, with elements responsible for preheating, glow plugs, filter heating, etc.
And if you want to help supplement the material, write in the comments.