Suzuki Grand Vitara presents the third generation of the Vitara range. In this publication you will find a description of the Suzuki Grand Vitara fuse and relay boxes manufactured in 2005, 2006, 2007, 2008, 2009, 2010, 2011, 2012, 2013 and 2014. We will show where these boxes are located, their diagrams and photo examples of execution. Let's highlight the fuse responsible for the cigarette lighter.
The design of the boxes and the number of elements in them in your Suzuki Grand Vitara may differ from the one presented and depend on the year of manufacture and the level of vehicle equipment. And if the circuits do not fit, study the description for the Suzuki Vitara .
Engine compartment
Main fuse box
Located on the left side, next to the counter. Closed with a protective cover.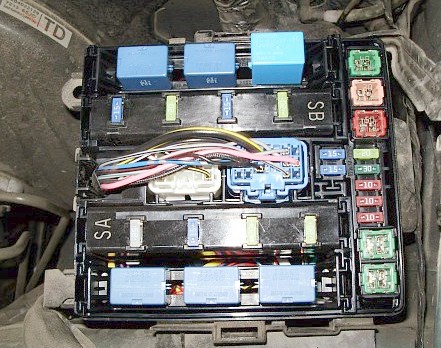 The current assignment of fuses and relays will be presented in the form of a diagram on the back of the cover.
Diagram
Designation
| | |
| --- | --- |
| 1 | 15A Air conditioning electromagnetic clutch |
| 2 | 20A Oxygen sensor heater |
| 3 | 15A Electric throttle |
| 4 | 20A automatic transmission |
| 5 | 25A Heated rear window |
| 6 | 15A Sound signal |
| 7 | 20A Fog lights |
| 8 | 20A Heated mirrors |
| 19 | 15A Left headlight (low beam), left discharge headlight, low beam headlamp relay |
| 20 | 15A Right headlight (low beam), right gas discharge headlight, low beam headlamp relay |
| 9 | 40A Heater fan |
| 10 | 30A ABS control unit 2, ESP control unit |
| 11 | 50A ABS control unit 1, ESP control unit |
| 12 | 20A Main relay |
| 13 | 30A Electro headlight washer pump |
| 16 | 10A Left headlight (high beam) |
| 15 | 10A Right headlight (high beam) |
| 16 | 10A High beam relay, low beam relay |
| 17 | 40A Starter ST |
| 18 | 40A Ignition switch IGN |
Relay
A

Headlamp high beam relay

B

Headlamp low beam relay

C

Starter relay

D

Fuel pump relay

E

the main thing

F

Heater fan motor

G

Electric throttle valve

H

Cooling system fan motor No. 1, 2, 3

I

J

K

Brake light relay
Additional relay box
Additional box
It is not far from the battery and consists of power fuses.
Diagram
Assignment
1

120 / 80A All circuits, battery, fuse box # 1

2

30 / 40А Cooling system fan motor relay No. 2 and No. 1

3

4

40A 4WD control unit

5

50A Ignition lock

6

60A Fuse box No. 2, low beam relay, mounting block

7

Integrated relay box # 1, integrated relay box # 2, fuse box # 2

8

Fuse box No. 2
Passenger compartment
Mounted on the left pillar, on the driver's side, under the dashboard.
The photo
The current diagram will be printed on the protective cover of the unit.
Diagram
Appointment
1

Tailgate relay

2

Relay for auxiliary ignition circuits

3

Transmission selector lock relay ("P" range)

F1

(20A) Alternator, ignition coils, engine ECU

F2

(10A) ECM, instrument cluster

F3

(15A) ECM, display, audio system

F4

(20A) Central locking

F5

(10A) Rear dimensions

F6

(15A) Interior lamp

F7

(25A) Luke

F8

(20A) Electronic engine control module (ECM)

F9

(7.5A) Starting system

F10

(15A) Hazard warning lamp, turn signal interrupter relay

F11

(7.5A) Vanity mirror lamp

F12

(30A) Power windows

F13

(20A) Power windows

F14

(15A) Airbag

F15

(10A) ABS, ESP control unit, steering angle sensor

F16

(10A) Reversing light, selector position sensor, headlight range control switch

F17

(15A) Cooling system fan motor relay # 1, # 2 and # 3

F18

(20A) Windshield wiper

F19

(15A)

Cigarette lighter fuse

, charging connector

F20

(10A) Cruise control, Brake light switch

F21

(15A) Charging connector

F22

(7.5A) Rear fog lamps, Combi switch

F23

(15A) Stop lights
For the front cigarette lighter fuse number 19 at 15A is responsible, and for additional sockets – 21 at 15A.
On our YouTube channel, we also posted a video. Watch and subscribe.
That's all, and if you have something to add, write in the comments.