Skoda Fabia 2nd generation (Mk2) was produced in 2007, 2008, 2009, 2010, 2011, 2012, 2013 and 2014 with hatchback and station wagon bodies (Fabia Combi). This model was produced with gasoline and diesel engines with volumes of 1.2 1.4 1.6 and 1.9 liters. In this material you will find a designation of fuses and relays for Skoda Fabia 2nd generation with diagrams and photographs of the box in which they are located. Separately, we note the fuse for the cigarette lighter and washer.
Wrong model? Description for the 1st generation Fabia, read here , and for the 3rd generation here .
Passenger compartment
Fuse box
It is located under the steering wheel and is covered by a protective cover.
photo for example
On the back of the cover there should be an up-to-date description of the unit for your vehicle.
The serial number of this designation will be placed in the right corner. Here are the 4 most common options:
5J0010623A – Fabia 2 from 2007 to 2010 (dorestyling)

5J0010743 – Fabia from 2010 to 2012

5J0010826P – Fabia from 2012 to 2015

5J0010675 – Fabia from 2007 to 2010.
Accordingly, the designation may change.
Diagram
Assignment
Not taken

5A Starter relay

7.5A Engine electronics, electric onboard power supply control unit, headlight range adjuster, data bus interface diagnostics, voltage stabilizer

5A ABS control unit, Steering angle sensor, Start-stop mode button

5A Tempomat device (for petrol engines)

10A Reversing lamp, (for cars with manual transmission)

5A Engine control unit, Ignition system (for vehicles with a manual transmission), 7.5A Engine electronics, automatic transmission preselector lever

5A Switch for brake pedal control, Switch for clutch pedal 'Radiator fan control unit

5A Control unit for adaptive lighting and headlight range control, Control unit for air conditioning, climate control, radiator fan, Parktronic control unit.

not taken

5A Adjusting the outside rearview mirrors

5A Trailer recognition control unit

5A Dual-clutch transmission mechatronics, Automatic gearbox control unit

10A Left adaptive headlamp module, Right adaptive headlamp module

5A Voltage converter 12V / 5V, Navigation

5A Engine control unit, Fuel pump relay, Speedometer sensor (for cars without ABS), Fuel pump control unit

7.5A Left or right daytime running light bulb (DRL), Left or right LED DRL module and parking light

5A Heated exterior mirrors

5A Contact S

15A Fuel pump control unit

10A Reversing lamp for vehicles with automatic transmission or fog lamps when connected via BCM

7.5A Instrument cluster, Diagnostic socket, Control unit, multifunction steering wheel (without start-stop system)

15A Interior lighting for body, storage shelf, Trunk lighting

5A Control unit for the electric onboard network of the vehicle

20A Heated seats

10A Rear window wiper motor

not taken

10A Engine electronics

10A Engine electronics

15A / 20A Fuel pre-priming pump, Ignition system high voltage transformer, Clutch pedal position sensor, Low heat output relay, Cruise control (for diesel engines)

10A Lambda Sensor

15A Fuel pressure regulating valve

15A Engine control unit

20A Brake vacuum pump, Engine control unit, Engine electronics

5A Headlight range control lamp

15A High beam

7.5A Rear fog lamp lamp on the left, Rear fog lamp warning lamp

10A Fog lights

30A Fan for fresh air inlet

15A Rear window wiper switch, Windshield washer heating resistor

not taken

25A Heated rear window

20A Sound signals

20A Electric wiper motor

10A Central locking motor in the boot lid (Central locking)

15A Anti-theft alarm device (for the start-stop system)

15A Cigarette lighter, 12V socket

15A ABS control unit

15A Direction indicator

10A Car radio 'navigation

25A Driver's door control unit, Rear left door control unit

25A Front passenger door control unit, Rear right door control unit

25A Sliding roof control unit

15A Anti-theft alarm device (without start-stop system)

30A Mechatronics Dual Clutch Gearbox

25A Headlight cleaning relay

15A Low-beam and headlamp-leveling lamp, left side

15A Inclination lamp for dipped beam and headlight range, right side
The fuse number 47, 15A, is responsible for the cigarette lighter. And for the cleaner number 10 or 40.
Relay box
Located at the end of the instrument panel behind the left cover.
Diagram
Circuits protected
R1, R6, R11-R15 – reserve;

R2 – windscreen heating relay (depending on configuration);

R3 – starter blocking relay;

R4 – fuel supply relay on the pressure line;

R5 – power supply relay;

R7 – front parking light relay;

R8 – fuel pump relay;

R9 – air conditioning relay;

R10 – relay contact "X"
Engine compartment
The mounting box with fuses and fuses is located in the cover on the battery.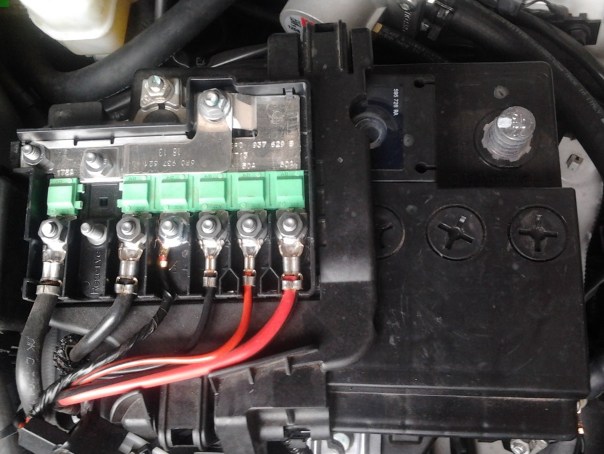 Type 1
Diagram
Appointment
175A Generator

Not occupied

80A Interior

60A Additional electric heating

40A Interior

50A Cooling fan, glow plugs

50A Electric steering

25А ABS, ESP, ASR

30A Cooling fan

5A Cooling fan

40A ABS, ESP, ASR

5A Central control unit

5A Automatic transmission, 40A Additional heating
Type 2
Diagram
Designation
| | |
| --- | --- |
| 1 | 175A Generator |
| 2 | 80A Electrical control unit |
| 3 | 60A Additional heater |
| 4 | 40A Hydro – ABS electronic unit |
| 5 | 50A Power steering control unit |
| 6 | 50A Glow plugs |
| 7 | 5A Automatic transmission |
| 8 | 40A Electrical control unit |
| 9 | 30A Cooling fan |
| 10 | 5A Air conditioner |
| 11 | 30A Cooling fan |
| 12 | 25A Hydro – ABS electronic unit |
On our YouTube channel, we also posted a video. Watch and subscribe.
And if you want to add something, write in the comments to this article.