Renault Vel Satis belongs to business class cars. A specially prepared version of Vel Satis is used even by the President of France. This series was produced in 2001, 2002, 2003, 2004, 2005, 2006, 2007, 2008 and 2009. We provide information on where the fuse and relay boxes are located, a description of the boxes, their diagrams and the purpose of the elements. Note the cigarette lighter fuse.
Passenger compartment
Main box
Located on the left side at the end of the dashboard.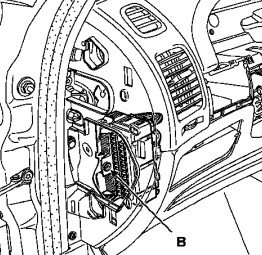 photo
On the back of the protective cover there will be an up-to-date fuse assignment diagram and spare fuses (if they have been preserved, of course).
Diagram

Designation
F1

(20A) High beam headlights

F2

(10A) Parking brake switch, ignition reader, multifunction control module, starter switch

F3

(10A) Headlight range control unit, headlight range control unit (xenon headlights), windshield washer nozzle heaters, instrument cluster, voice synthesizer

F4

(20A) Anti-theft system, automatic transmission (AT), central locking, heater / air conditioning system, rain sensor, interior air temperature sensor fan, interior rearview mirror, parking system, reversing lights, switch lights, windshield wiper motor

F5

(15A) Interior lamps

F6

(20A) Air conditioning, automatic transmission (AT), door lock, cruise control, diagnostic connector (DLC), power door mirrors, power windows, switch lights, brake lights, washers / wipers windshield

F7

(15A) Headlamp leveling control module (xenon headlights), headlight range control, instrument cluster, LH headlamp – low beam

F8

(7.5A) Right front dimensions

F9

(15A) Direction indicators / hazard warning lights

F10

(10A) Audio, power seats, power windows, instrument cluster, navigation, telematics

F11

(30A) Air conditioning, fog lights, instrument cluster, voice synthesizer

F12

(5A) SRS system

F13

(5A) Anti-lock braking system (ABS)

F14

(15A) Buzzer (s)

F15

(30A) Driver's door control module, power door mirrors, power windows

F16

(30A) Passenger door control module, power windows

F17

(10A) Rear fog lamps

F18

(10A) Heated door mirrors

F19

(15A) RH headlamp-low beam

F20

(7.5A) Audio CD changer, instrument panel grille illumination, glove box illumination, instrument cluster rheostat, passenger compartment illumination, front left-hand dimensions, license plate illumination, navigation system, switch illumination

F21

(30A) Rear window washer, high beam

F22

(30A) Central locking

F23

(15A) Accessory power connectors

F24

(15A) Auxiliary equipment socket (rear), 

cigarette lighter

F25

(10A) Electric steering column lock, heated rear window, front seats, rear window lockout

F26

–
The fuse number 24 at 15A is responsible for the cigarette lighter.
Relay
Appointment
R2 Heated rear window

R7 Front fog lamps

R9 Windscreen wipers

R10 Windscreen wipers

R11 Rear window wiper / reversing lights

R12 Door lock

R13 Door lock

R17 Rear window wiper

R18 Temporary activation of interior lighting

R19 Additional electrical equipment

R21 Engine start inhibit

R22 "Plus" after ignition feed

R23 Accessories / optional audio system / rear door power windows

SH1 Rear door power window shunt

SH2 Shunt for front power windows

SH3 Headlamp low beam shunt

SH4 Parking light circuit shunt
Box 2 (optional)
This box is located in the control panel on the passenger side behind the glove box (glove compartment), and the hotel part can be located on the fuse and relay box.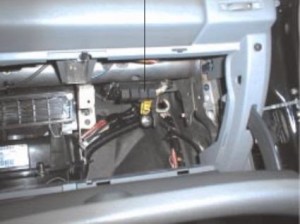 Diagram
Assignment
| | |
| --- | --- |
| 17 | Power window relay |
| 3 | Power seat relay |
| 4 | Daytime running light warning lamp relay |
| 5 | Daytime running light relay |
| 6 | Headlight washer pump relay |
| 7 | Brake light cut-off relay |
| F26 | (30A) Trailer socket |
| F27 | (30A) Luke |
| F28 | (30A) Power window regulator, rear left |
| F29 | (30A) Power window regulator, rear right |
| F30 | (5A) Steering wheel position sensor |
| F31 | Not used |
| F32 | Not used |
| F33 | – |
| F34 | (20A) Driver and passenger seat heating fuse |
| F35 | (20A) Heated front seats |
| F36 | (20A) Power seat – driver's side |
| F37 | (20A) Power passenger seat |
Box 3
Another fuse located under the ashtray on the center console.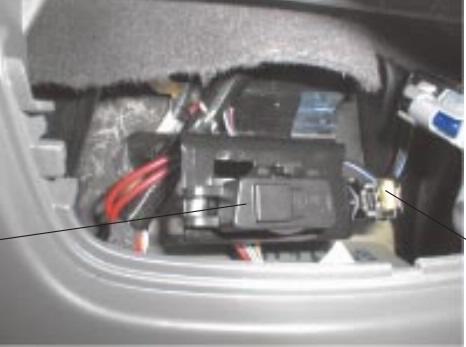 This fuse protects the power supply circuit of: Diagnostic connector, Car radio, Air conditioning ECU, Seat memory ECU, Combined display (clock / outside temperature / car radio), Navigation ECU, Tire pressure monitor ECU, Central communication unit, Connection to security alarm system.
Engine compartment
It is on the left side. Closed with a plastic cover.
Diagram
Designation
| | |
| --- | --- |
| 1 | (7.5A) Automatic transmission |
| 2 | (10A) Autonomous heater |
| 3 | (30A) Injection system relay |
| 4 | (5A / 15A) Automatic transmission |
| 5 | (30A) Diesel heating |
| 6 | (10A) Engine ECU |
| 7 | – |
| 8 | – |
| 9 | (20A) A / C ECU |
| 10 | (30A) Anti-lock braking system / stability control system |
| 11 | (30A) Horn |
| 12 | (70A) Fuel preheating system |
| 13 | (70A) Coolant Heaters – If Equipped |
| 14 | (70A) Coolant Heaters – If Equipped |
| 15 | (60A) Cooling fan motor control |
| 16 | (40A) Headlamp washers, heated rear window, multifunction control module |
| 17 | (40A) Anti-lock braking system / stability control system |
| 18 | (70A) Multifunction control module, passenger compartment fuses 1 |
| 19 | (70A) Cabin fuses 2 |
| 20 | (60A) Interior fuses 3 |
| 21 | (60A) Multifunction control module |
| 22 | (80A) Heated windshield (some models) |
| 23 | (60A) Windshield wiper, electric parking brake |
Relay type 1
Coolant heater relay

Cooling fan motor relay (without A / C)

Not used

Not used

Brake servo vacuum pump relay

Fuel pump relay

Diesel heater relay

Fuel interlock relay

A / C Fan Low Speed ​​Relay

Air conditioner fan relay

Thermoplunger relay 2
Relay type 2
Not used

A / C Fan Low Speed ​​Relay

Not used

Not used

Not used

Fuel pump relay

Heater relay (fuel gas ventilation system)

Fuel pump relay

A / C Fan Low Speed ​​Relay

A / C blower motor relay

Not used