Opel Omega A was presented in 1986, in the luxury version it was called the Opel Senator. Also known as Vauxhall Omega A. The years of production 1987, 1988, 1989, 1990, 1991, 1992 and 1993. In this publication we show a designation of the electronic control units and their location, describe in detail the fuses and relays Opel Omega A, and their boxes diagrams. Note the cigarette lighter fuses.
Layout of control units
Diagram
Engine compartment
Box A
Located in the rear left corner of the engine compartment.
Fuel injection relay

Ignition fuse – engine 18 NV

Engine speed relay-motor 18 NV

ABS voltage limiter relay

Headlamp Washer / Washer Relay

Additional cooling fan relay

Fuse for additional cooling fan
Passenger compartment
Box B
It is mounted on a stand, under the bottom panel on the right.
Central locking control unit

Motronic control unit
Box C
It is mounted on a stand, under the lower panel on the left, and this is where the direction indicator control unit will be located.
Box D
The right lower dashboard suspension.
Diesel Glow Plug Sensor

Downshift automatic transmission

Low beam relay
Box E
Located on the back of the rear seat.
Rear seat heater relay

Vehicle suspension level control sensor
Box F
A time relay for the outside mirror heater can be located on the bottom panel.
Box H
It is mounted on the relay carrier behind the fuse box.
Air conditioner relay

Air conditioner fan relay

Turns relay

Rear window washer / wiper time relay

Horn Relay (1988 Models)

A / C compressor relay
Box I
This main fuse and relay box is located under the dash on the left, on the driver's side.
Diagram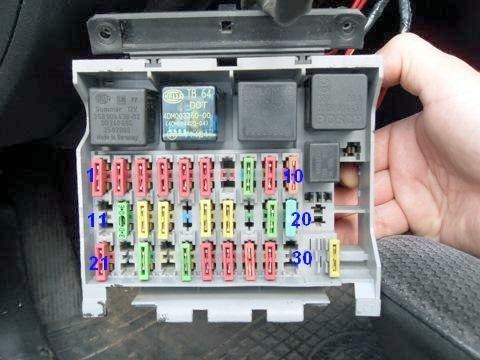 Assignment
1

10A Side lights left side.

2

10A Side lights, right side.

3

10A High beam left headlight.

4

10A High beam of the right headlight.

5

10A Low beam left headlight.

6

10A Dipped beam of the right headlight.

7

10A (red) Low beam.

8

15A Stop lights, direction indicators, ABS.

9

30A Reversing lights, wiper, horn.

10

10A Rear fog light.

11

10A Reserve

12

30A Heater fan.

13

20A Cigarette lighter

,

glove compartment lighting

, heated front seats.

14

20A Trailer electrical supply, height-adjustable suspension.

15

15A Hazard lights, clock, trunk lighting, plafond, radio.

16

20A Electric petrol pump.

17

20A Fog lights.

18

20A Heated rear window.

19

30A Front electric windows.

20

30A Rear electric windows.

21

10A Illumination of the instrument panel, license plate, engine compartment.

22

30A Electric fan of the cooling system.

23

30A Central locking, heated rear seats.

24

20A Additional high beam headlamps.

25

30A Electroluk.

26

10A Headlight washer.

27

10A Automatic transmission, ABS.
The fuse number 13, 20A, is responsible for the cigarette lighter.
Relay
Heated rear window or horn

Fog lamp relay

High beam headlamp relay

Fuse remover

Windshield washer / wiper time relay

Turn signal unit

Alarm beep

Fuse