Nissan Tino Almera – compact van which was issued on the basis of the vehicle Nissan Almera in 1999, 2000, 2001, 2002, 2003, 2004, 2005 and 2006. You can find both models assembled in Europe and in Japan. They are not 100% identical. They have a difference in structural elements and electronics. In our material, we will show the most common information about Nissan Tino fuse boxes and relays: locations, their photographs and diagrams with the designation of elements. Let's show which fuse is responsible for the cigarette lighter.
Passenger compartment
It is located in the dashboard behind a protective cover. On the back of which there is an up-to-date description of the purpose of the fuses.
The photo
Diagram
Designation
Circuit breakers
10A Mirrors

10A Brake lights

15A Power socket

7,5А For additional electrics

15A Alarm and turn signals

10A For additional electrics

20A Heated rear window

10A Oxygen sensor

10A Additional power accessories

10A Electrical package

10A Automatic transmission controller

10A ECU (i.e. all control of all turn signals, backlight and main power supply of the dashboard, panel backlight where the stove is)

10A Interior lamp

15A Interior blower motor (heater / air conditioner)

10A Air conditioner

15A Interior blower motor (heater / air conditioner

10A Fuel injection system

10A Airbags

20A Additional power accessories

10A Engine Controller

10A Start signal

15A Cigarette lighter

Not used

20A Additional power accessories

20A Windshield wiper

7,5А For additional electrics

15A Front and / or rear window washer (on the steering column switch)

15A Rear window washer

15A Gasoline pump

10A Speedometer, tachometer, temperature and fuel level gauges

10А ABS

10A Reserve

15A Reserve

20A Reserve
The fuse number 22, 15A, is responsible for the cigarette lighter.
Front side relay
R1 Headlamp relay

R2 Throttle valve control relay

R3 Power window relay

R4 Rear fog lamp relay
Rear side relay
R1 Ignition relay

R2 Blower motor relay

R3 Relay for additional equipment (electrical accessories)
Engine compartment
Fuse box
Located next to the battery.
The lid will contain an up-to-date diagram with a description.
Photo for example (2.2 diesel)
Diagram (gasoline)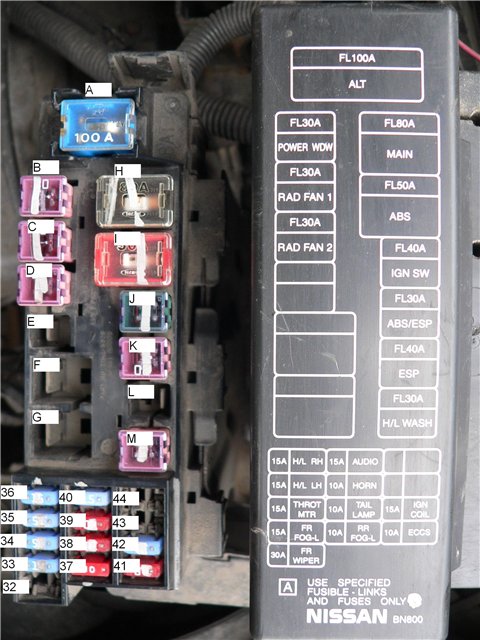 Functions (general)
A 100A Generator (battery charging)

40A power windows

With 40A cooling fan controller

D 40A regulator of cooling fans

E 30A for diesel engines

F 60A for diesel engines

G 80A for diesel engines

H 80A main power supply, ground circuit

I 50A ABS

J 30A to battery ignition switch

К 30А ABS/ESP

L 30A ESP motor

M 30A Headlight washer

32 20A Rear window washer

33 15A Fog lights

34 15A Electric actuator and relay for electric throttle valve

35 15A Headlights, daytime running lights

36 15A Headlights, daytime running lights

37 10A Rear fog lamp

38 10A Dimensions, license plate lighting

39 10A Klaxon, battery charging (excitation current to the generator from the battery)

40 15A Audio, navigation, LCD display

41 10A Engine management system

42 10A Ignition coil

43 10A USR

44 20A engine ECU
Relay box
It is located at the right wing, next to a barrel of washer fluid.
The photo
Assignment
R1 3rd radiator fan relay (25221E)

R2 Front tumanki PTF (25224QA)

R3 Air conditioner relay E6 (25224D)

R4 Horn relay (25620)

R5 Radiator fan relay (25224J)

R6 Headlights, light (25224A)

R7 Starter (25224G)