Nissan Leaf is one of the first mass-produced electric cars from Nissan. It was produced in 2010, 2011, 2012, 2013, 2014, 2015, 2016, 2017, 2018, 2019, 2020. In this article, we will show the location of the fuse boxes in the Nissan Lleaf, their photos and their purpose. Separately, we note the fuse responsible for the cigarette lighter.
Depending on the configuration and the region of delivery, different designs and placement of boxes are possible. In case of difficulty, contact your dealer.
Passenger compartment
It is located behind a cover in the A-pillar. On the reverse side there will be a current diagram with a description of the purpose.
the photo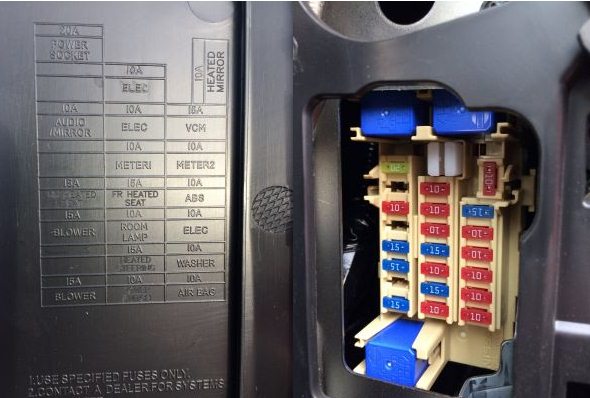 Designation
20A – socket / cigarette lighter

–

10A – Audio system / mirror

–

15A – Parking / braking systems

15A – Fan

–

15A – Fan

10A – Electro components

10A – Electro components

10A – Measuring instruments

15A – Heated seats

10A – Light in the salon

15A – Steering heater

10A – Switch

10A – Heated mirrors

15A – Outdoor light

10A – Measuring instruments

10A – ABS

10A – Electro components

10A – Washer

10A – Airbags
The fuse designated as Power Socket for 20A is responsible for the cigarette lighter. At the very top left.
Above are the ignition relays ( 25224BB  RELAY-IGNITION ) and ACC ( 25224B RELAY-IGNITION) , and below the heater fan relay ( 25224BA BLW RELAY).
Engine compartment
General box layout
Box 1
Current description and purpose on the inside of the lid.
Example circuit
HORN – signal

HEAD LAMP CLEANER – headlight cleaner

RAD FAN – radiator fan

DTRL – headlight control system

(A / C) – Air Conditioner – conditioner
Box 2
Photo for example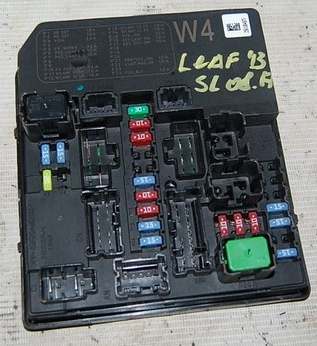 The assignment of the elements will be located at the top.
Box 3
This relay box is usually installed on the right side of the engine compartment.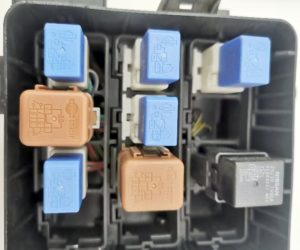 Diagram from the box cover
SR MOTOR RLY – Starter relay
Is there anything to add to the material? Write in the comments.