The 5th generation Ford Fiesta  subcompact car was produced in 2002, 2003, 2004, 2005, 2006, 2007 and 2008. During this period, the car underwent restyling, which mainly affected the appearance of the car. Although this is the fifth generation, the car received the MK6 index. In this publication, we will show the purpose of the 5th generation Ford Fiesta fuses and relays with photographs and boxes diagrams in which they are located. Note the cigarette lighter fuse.
The purpose of the fuses may differ from the description presented and depend on the year of manufacture and the vehicle equipment level.
Passenger compartment
The main box with fuses and relays is located in the passenger compartment, behind the glove compartment. To access it, you need to slightly squeeze the sides of the walls.

Diagram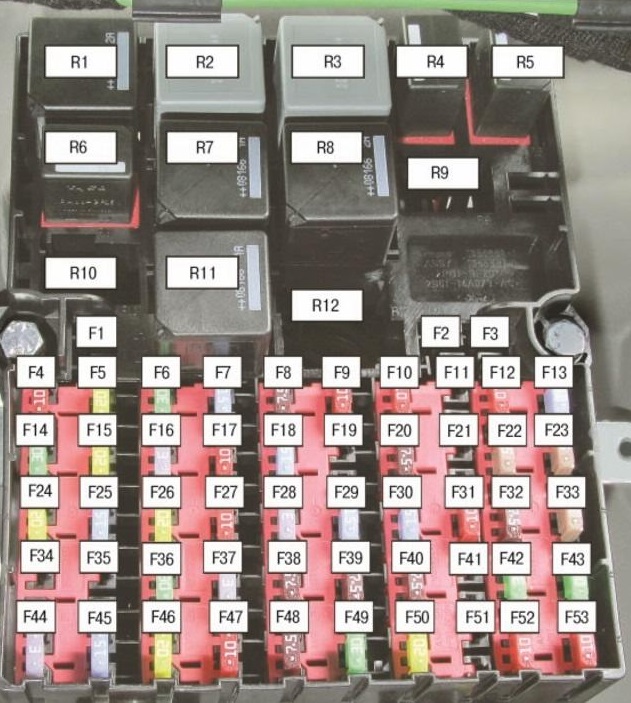 Assignment
F1

Reserve

F2

Trailer

F3

Trailer

F4

10A Heating (air conditioning) and ventilation system

F5

20A Anti-lock braking system (ABS)

F6

30A Anti-lock braking system (ABS)

F7

15А Durashift EST gearbox

F8

7.5A Electric drive of outside rear-view mirrors

F9

10A Left low beam headlamp

F10

10A Right low beam headlamp

F11

15A Lighting when driving during daylight hours

F12

15A Power supply circuit of the injection system, ECU

F13

20A Engine management system (diesel)

F14

30A Starter

F15

20A Fuel pump

F16

3A Power supply circuit of the injection system relay, injection computer

F17

15A Switch for outdoor lighting

F18

15A Car radio

F19

15A Lighting when driving during daylight hours

F20

7.5A Instrument panel, shutdown timer, license plate light

F21

Reserve

F22

7.5A Side light left side

F23

7.5A Side light right side

F24

20A Central locking and burglar alarm horn

F25

15A Hazard warning lights

F26

20A Heated rear window, tailgate

F27

15A Sound signal

F28

3A Battery, starter

F29

15A

Cigarette lighter

F30

15A Ignition system

F31

10A Switch of outdoor lighting devices

F32

7.5A Heated exterior mirrors

F33

7.5A Instrument Switch

F34

Reserve

F35

7.5A Heated front seats

F36

30A Windows

F37

3A Anti-lock braking system (ABS)

F38

7,5А General purpose electronic unit

F39

7.5A Airbags

F40

7,5А automatic transmission

F41

Reserve

F42

30A Heated windshield

F43

30A Heated windshield

F44

3A Car radio

F45

15A Stop lights

F46

20A Windshield wiper and washer

F47

10A Rear door glass wiper

F48

7,5A Reversing light

F49

30A Heater motor

F50

20A Fog lights

F51

15A auxiliary cigarette lighter fuse

F52

10A Left high beam headlamp

F53

10A Right high beam headlamp
Fuse numbers 29 and 51 at 15A are responsible for the cigarette lighter.
Relay
| | |
| --- | --- |
| R1 | 40A Electric folding exterior mirrors |
| R2 | 40A Heated windshield |
| R3 | 70A Ignition system |
| R4 | 20A Low beam headlamps |
| R5 | 20A High beam headlamps |
| R6 | 20A Fuel pump |
| R7 | 40A Starter |
| R8 | 40A Electric fan heater |
| R9 | 20A Lighting when driving during daylight hours |
| R10 | 20A Battery charging |
| R11 | 40A injection system, injection ECU |
| R12 | Reserve |
Engine compartment
Fuse mounting box
It is attached from the side to the battery, on its positive wire and consists of high-power fuse-links. To access it, you need to remove the battery itself.
Diagram
Designation
| | |
| --- | --- |
| FА | 80A Auxiliary heater (heater RTS) |
| FB | 60A Gearbox |
| FC | 60A Auxiliary heater (RTS heater) / glow plugs (diesel engine) |
| FD | 40A Cooling fan and air conditioning |
| FE | 60A Lighting equipment and general electronic module (GEM) |
| FF | 60A Ignition |
| FG | 60A Engine and lighting equipment |
| FH | 60A Heated windshield, ABS, ESP, glass lifters |
Relay box
This box is located next to the battery, it looks like a square.
Diagram
Assignment
R1 – Shutdown A / C at wide open throttle

R2 – High-speed engine cooling fan

R3 – Auxiliary heater (RTS heater)

R4 – Auxiliary heater (RTS heater)