The Citroen DS5 hatchback was produced in 2011, 2012, 2013, 2014, 2015, 2016, 2017, 2018, 2019 with both gasoline and diesel engines. During this time, the model has been restyled. In this publication, we will show the locations of the Citroen ds5 fuse boxes and relays with diagrams and a assignment of the elements. Note the cigarette lighter fuse.
The number of elements in the boxes and their purpose may differ and depend on the region of delivery, year of manufacture and the level of electrical equipment.
Dashboard fuse box
Located at the bottom of the dashboard behind the protective cover on the driver's side.
Photo – example
Diagram
Designation
F6 A or B

15A Audio system

F8

3A Burglar alarm

F13

10A Front cigarette lighter

, front 12V socket.

F14

10A Rear 12V socket.

F16

3A cosmetic mirror

F17

3A Rear hatch, rearview mirror

F28 A or B

15A Audio system

F30

20A Rear wiper

F32

10A Audio amplifier
For the front cigarette lighter, fuse number 13, 10A, is responsible.
Engine compartment fuse box
Located next to the battery on the left side of the engine compartment.
Example
Diagram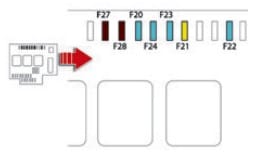 Appointment
| | |
| --- | --- |
| F20 | 15A Front / rear window washer pump |
| F21 | 20A Headlight washer pump |
| F22 | 15A Signal |
| F23 | 15A Right high beam headlamp. |
| F24 | 15A Left high beam headlamp. |
| F27 | 5A Left headlight control |
| F28 | 5A Right headlight control |
Also, a high power fuse block made in the form of a fusible link can be attached to the cover of the battery pack.
Example
This material requires addition, so many fuses and relays are not indicated – we will be glad to your help. You can write directly in the comments.
Did not find an answer to your question? For a more complete description see -> here . <-