The 3rd generation Chevrolet Equinox was produced in 2017, 2018, 2019, 2020, 2021, 2022, 2023 mainly with 1.5 and 2.0 liter gasoline engines. In this material you will find a description of the Chevrolet Equinox fuses and relays with fuse box diagrams, photo examples of performance and locations. Select the fuse responsible for the cigarette lighter.
The execution of the boxes and the allocation of the elements in them may differ from those presented and depend on the year of manufacture and the level of electrical equipment of your car.
Passenger compartment
In the cabin, the fuse and relay box is located under the instrument panel, on the driver's side.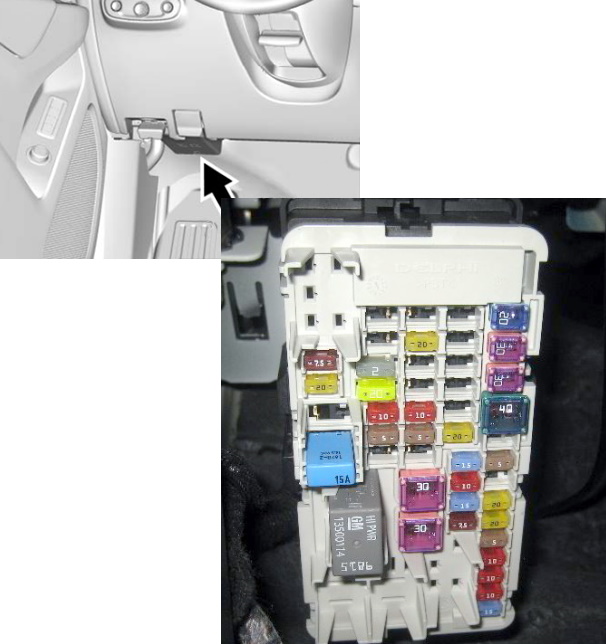 Diagram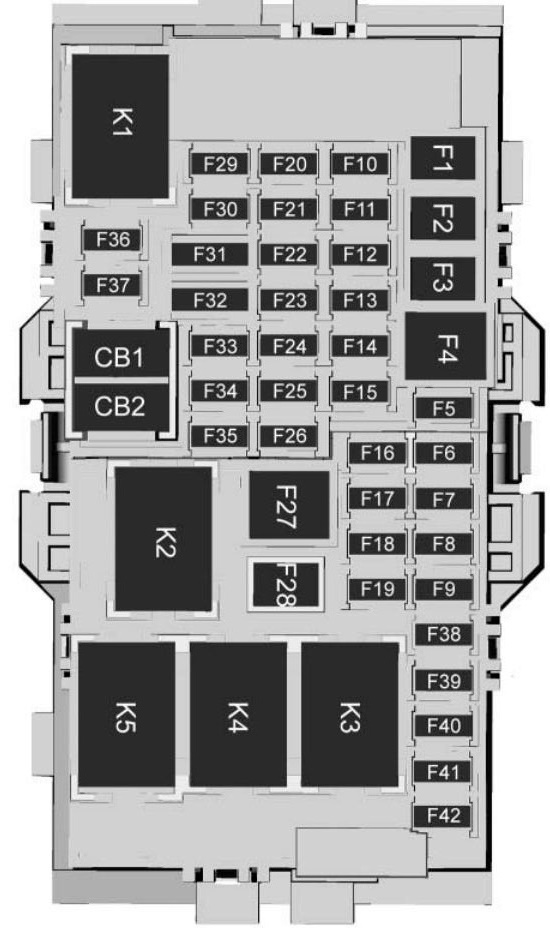 Assignment
F01
DC AC inverter
F02
Front windows
F03
Trailer brake
F04
Heating, ventilation, and air conditioning blower
F05
Body control module 2
F06
Central gateway module (CGM)
F07
Not used
F08
Body control module 3
F09
Amplifier
F10
Not used
F11
Not used
F12
Not used
F13
Not used
F14
2018-2019: Electronic shifter.
2020-2022: Not Used
F15
Transmission control module
F16
Front heated seats
F17
Left data link connector
F18
Body control module 7
F19
Exterior mirror
F20
Body control module 1
F21
Body control module 4
F22
Body control module 6
F23
Electric steering column lock
F24
Sensing and diagnostic module
F25
Occupancy sensor
F26
Not used
F27
Power seats
F28
Rear windows
F29
Not used
F30
2018-2019: Front heated seats switch.
2020-2022: Not Used
F31
Steering wheel controls
F32
Body control module 8
F33
Heating, ventilation, and air conditioning
F34
Passive entry, passive start
F35
Liftgate latch
F36
2018: Shift charger
2019-2022: Wireless charger module/ USB accessory
F37
Cigarette lighter
F38
OnStar
F39
Instrument panel USB
F40
Camera module/ Liftgate module
F41
2018-2020: Parking assist module
2021-2022: Park assist module/ Center stack display/ Heating, ventilation and air conditioner display/ Universal garage door opener/ Overhead control switchbank
F42
Radio
Relays
K01
2018-2019: Deadbolt.
2020-2022: Not Used
K02
Retained accessory power
K03
Liftgate
K04
Not used
K05
Logistics
Circuit Breakers
CB1
2018: Front auxiliary power outlet
2019-2022: Not Used
CB2
Auxiliary power outlet console
The number 37 fuse is responsible for the cigarette lighter.
Engine compartment
Under the hood, the main fuse and relay box is located on the front left.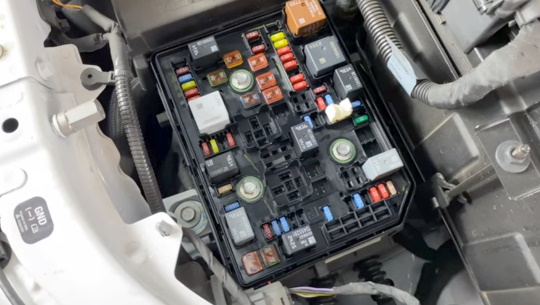 Diagram
Designation
F01
30A Starter 1
F02
40A Starter 2
F03
15A Lambda sensor 1
F04
25A Engine control module
F05
10A 2018-2020: FlexFuel sensor
2021: FlexFuel sensor/ Aero shutter
2022: Aero Shutter/ Water Pump
F06
20A Transmission control module
F07
Not used
F08
10A 2018-2021: Engine control module
F09
10A Air conditioning clutch
F10
10A Canister vent
F11
20A Fuel system
F12
15A Front heated seats
F13
7,5A 2018-2019: Afterboil pump.
2020-2022: Engine coolant pump
F14
Not used
F15
10A Lambda sensor 2
F16
15A 2018: Fuel injectors – odd
2019-2022: Ignition coils
F17
15A 2018: Fuel injectors – even
2019-2022: Engine control module
F18
2018-2021: Not used/ Selective catalytic reduction module (diesel only)
2022: Engine Control Module
F19
Not used/ NOx soot sensor (diesel only)
F20
40A DC DC converter 2
F21
20A Shift control
F22
60A Antilock brake pump
F23
15A 2018: Front washer
2019-2022: Front/Rear washer pump
F24
Not used
F25
Not used/ Diesel fuel heater (diesel only)
F26
Not used
F27
30A Antilock brake system
F28
30A LD trailer
F29
30A Window defogger
F30
7,5A Mirror defroster
F31
Not used
F32
7,5A Variable functions
F33
Not used
F34
15A Horn
F35
20A 2018: Vacuum pump
2019-2022: Not Used
F36
10A 2018-2021: Right high-beam headlamp
2022: Headlamps/ Daytime Running Lamps Right
F37
10A 2018-2021: Left high-beam headlamp
F38
5A Automatic headlamp leveling
F39
15A 2018-2021: Fog lamps
F40
Not used
F41
10A Transmission range control module
F42
10A Motorized headlamp
F43
20A 2018: Fuel pump
2019-2022: Not Used
F44
10A Interior rearview mirror
F45
10A 2018: Canister vent solenoid
2019-2022: Passenger side ventilated seat
F46
10A Driver side Ventilated Seat
F47
20A Steering column lock assembly
F48
20A Rear wiper
F49
Not used
F50
10A Heated steering wheel
F51
15A 2018: Right headlamp
2019-2021: Right daytime running lamp
F52
7,5A Engine control module/ Transmission control
F53
Not used
F54
30A 2018: Front wiper
2019-2022: Not Used
F55
30A Front wiper speed/ Control
F56
7,5A Austrail
F57
15A 2018: Left headlamp
2019-2021: Left daytime running lamp
2022: Headlamps/ Daytime Running Lamps Left
Relays
K01
Starter solenoid
K02
Air conditioning control
K03
2018: Not used
2019-2022: Engine control module
K04
2018: Wiper control
2019-2022: Front wiper control
K05
Starter Solenoid/ Pinion
K06
Not used/ Fuel heater (diesel only)
K07
Not used
K08
Not used
K09
2018: Wiper speed
2019-2022: Front wiper speed
K10
Not used
K11
Not used
K12
2018-2021: High-beam headlamps
2022: Headlamps/ Daytime Running Lamps Right
K13
2018-2021: Headlamps/ Daytime running lamps
2022: Headlamps/ Daytime Running Lamps Left
K14
Run/ Crank
K15
Rear window defogger
K16
Horn
K17
Selective catalytic reduction
K18
Fog lamps
K19
Coolant pump
K20
Not used
K21
Rear washer
K22
Front washer
K23
2018: Wiper control
2019-2022: Rear wiper control
Check the diagrams with your designation on the back of the box cover.
A box of high power power fuses may be located near this unit. It will look something like this.
We will be glad if you share your knowledge about it or the purpose of the elements in this box – write in the comments.
Luggage compartment
In the luggage compartment on the left side there is another box with fuses and relays. To access, remove the protective cover.
Diagram
Appointment
F1
2018-2019: Exhaust fuel heater.
2020: Exhaust fuel heater/ Selective catalytic reduction power module (diesel only)
2022: Power Seat
F2
Liftgate
F3
Trailer auxiliary power
F4
2018: Power seats
2019-2021: Passenger Power Seat
F5
Memory seat module
F6
Sunroof
F7
Side blind zone alert
F8
Trailer reverse lamps
F9
Rear heated seat 1
F10
2018: Parking assist
2019-2022: Park Lamps
F11
Rear heated seat 2
F12
Not used
F13
Trailer parking lamp
F14
2018: Right trailer turn signal lamp
2019-2022: Right trailer stoplamp/ Turn signal lamp
F15
2018-2021: Left parking lamp
F16
2018-2021: Right parking lamp
F17
2018-2019: Not used.
2020-2022: Video processing module
F18
2018: Left trailer turn signal lamp
2019-2022: Left trailer stoplamp/ Turn signal lamp
F19
All-wheel drive
F20
Lumbar
F21
Rear auxiliary power outlet
F22
Rear drive unit
Relays
K1
Right trailer stoplamp/ Turn signal lamp
K2
Trailer reverse lamps
K3
Left trailer stoplamp/ Turn signal lamp
K4
Park lamps
K5
2018-2019: Selective catalytic reduction (SCR) – (diesel only).
2020: Exhaust fuel heater/ Selective catalytic reduction power module (diesel only)