The sixth generation of the BMW 5 series is the F10. Years of issue f10: 2010, 2011, 2012, 2013, 2014, 2015, 2016 and 2017. During this time, the series has undergone one restyling. This BMW was produced in several body styles: Touring – F11, sedan – F10 and liftback – F07. We provide general information about the Bmw f10 fuses and relay boxes with their descriptions and box diagrams.
In total, this series contains 2 main relay boxes with fuses. The current data on your fuse location is on a separate sheet, which should be located in the box itself.
Passenger compartment fuse box
As in previous generations of the five, it is located in the glove box (glove compartment). To access, simply open the protective cover.
Diagram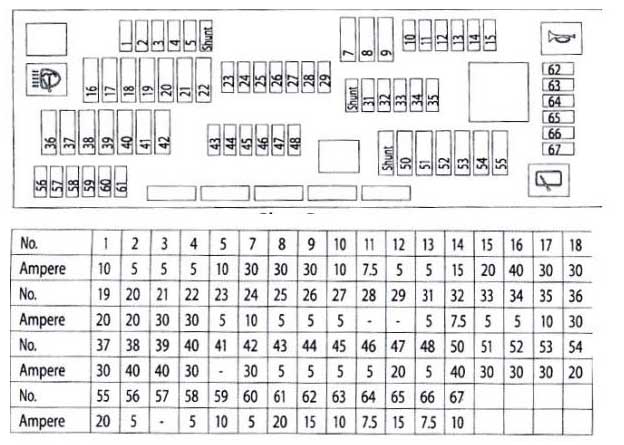 Relays for signal, fog lamps, wipers and other items are marked with squares.
Table with description of fuses
The following fuses are responsible for the cigarette lighter: 54, 65, 108, 147, 176 . Some of them are located in the luggage compartment.
Luggage compartment
Main box
To access, open the cover on the right side trim.
Elements arrangement diagram
Blown fuses must not be repaired or replaced with fuses of a different color or with a different ampere rating, otherwise a fire in the car may result from an overloaded electrical wire!
On the right side of this box is the heated rear window relay.
Relays
Several separate relay elements can be located behind the main unit.
Such as the:
Flashing beacon relay

Alarm relay

Rear power window relay

Fuse Block Disconnect Relay
Battery box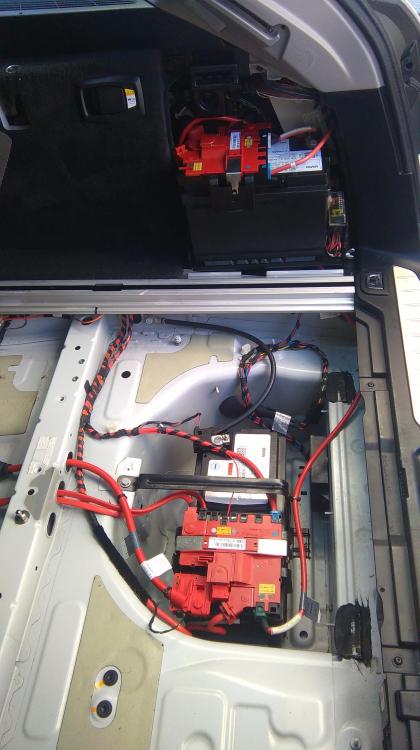 On the positive terminal of the storage battery (in the presence of an additional battery, there are also control elements nearby) there are main high-power fuses and some relays:
100A Cooling fan cut-off relay

100A Main relay

100/125 / 150A Fuse box disconnect relay or Electromechanical power steering

50A Hi-Fi Amplifier

60A Rear Camber Sensor

100A Fuse box No. 1 in the luggage compartment

250A Junction box
Engine compartment fuse box
It is located on the right side, under the protective cover.
There may be a DDE K2085 engine relay and several fuses responsible for the electromechanical power steering and engine electronics
Additional Information
For your convenience, watch a video about repairing a BMW f10 cigarette lighter by replacing the fuse (vertical video). Here you can clearly see the location of the boxes.