BMW 1 F40 represents the 3rd generation of the BMW 1 range, which was produced in 2019, 2020, 2021, 2022, 2023, 2024. During this time, this model has been updated. In this article you will find a description of the BMW 1 F40 fuses and relays with fuse box diagrams, their locations and photographs. Select the fuse responsible for the cigarette lighter.
The purpose of the fuses and relays may differ from those shown and depends on the year of manufacture and the level of electrical equipment of your car.
Fuse box
The fuse compartment is installed in the BDC (Body Domain Controller) electronic control unit, which is mounted on the right pillar, under the passenger compartment trim on the right side of the passenger.
Photo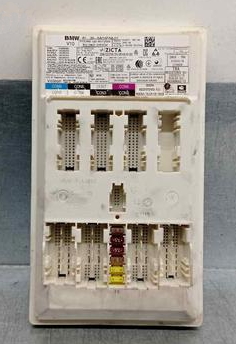 Diagram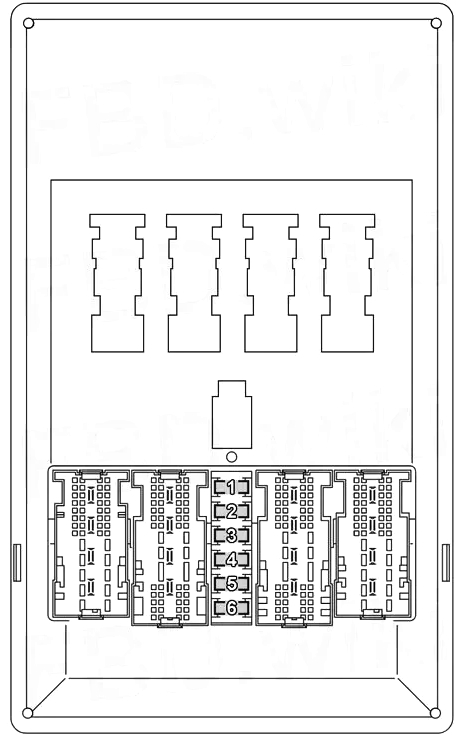 Designation
5A Steering column switch box, front center air vent, audio control panel, lighting control unit, head unit
7.5A Diagnostic socket, electronic ride height control, vertical dynamics platform
7.5A Heating/air conditioning system, tailgate function module, rain/light/ sun/condensation sensor
5A Passenger Side Outer Door Handle Electronic Module, Driver Side Rear Door Outer Handle Electronic Module, Rear Passenger Side Outer Door Handle Electronic Module, Power Control Unit, Telematics Unit
20A Lock Relay, Unlock Relay (Doors, Fuel Cap)
20A Driver's Door Lock Relay, Lockout Relay (Driver's Door Lock, Front Passenger's Door Lock, Driver's Side Rear Door Lock, Rear Passenger's Side Door Lock, Fuel Door Central Lock Actuator)
Fuse and relay box
Inside the car, behind the back cover of the glove compartment, is the main fuse and relay box.
Diagram
Check the assignment of the fuses and relays with your diagram, which is located on the fuse card or other technical documentation.
There is something to add – write in the comments.