Volvo 940 was produced in 1990, 1991, 1992, 1993, 1994, 1995, 1996, 1997, 1998. During this time, the model has been updated. In this article you will find information describing the fuses and relays of the Volvo 940 with fuse box diagram and its location. Select the fuse responsible for the cigarette lighter.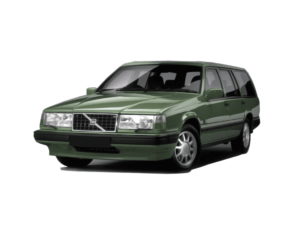 The purpose of the fuses and relays may differ from the one shown and depends on the year of manufacture, the level of electrical equipment and the region where your car was delivered.
Fuse and relay box
The main box with fuses and relays is located in the cabin, in the middle of the panel, behind the ashtray. To access the block, it must be removed.
Photo example
Fuses
Diagram
Assignment
1
25A Main fuel pump, fuel injection system, ignition system, oxygen sensor heater (B200, B230FT)
2
25A Hazard alarm, headlight flash, central locking, anti-theft alarm
3
30A Power seats, trailer ('93-'95)
4
15A Brake lights, shift lock
5
15A Glove box light, clock, radio, interior light, trunk light, open door warning light, powered antenna, vanity mirror, anti-theft alarm
6
30A Electronic Climate Control (ECC), Fan – Climate Control Unit
7
15A Front fog lights, rear fog lights
8
30A Power windows
9
15A Key reminder, seat belt reminder, manual climate control (MCC), A/C relay ('90-'92), warning light (seat belt), turn signals, heated front seats, power windows, shift lock, trailer
10
30A Heated rear window, power sunroof, power and heated mirrors
11
15A Fuel tank priming pump (LH-2.4 MFI), oxygen sensor (HO2S) Heating (B200F, B230FB/FD)
12
15A Reversing lights, cruise control, overdrive (manual transmission), 4th gear disengagement (automatic transmission), lamp failure warning light, anti-theft alarm, exhaust gas temperature sensor (Japan)
13
15A Pulsair – Solenoid Valve, Fuel Valve (Diesel), Preheater (Diesel), EGR (Diesel), Secondary Air Pulse Injection (PAIR), Solenoid (B230FD)
14
15A Power mirrors, cigarette lighter, radio, rear wiper (wagon), ambient air temperature sensor
15
25A Horn, windshield wiper/washer, headlight wiper/washer, power seats
16
30A Heater fan, A/C, electronic climate control (ECC) control module, ECC solenoids
17
15A Left headlight (high beam), high beam indicator
18
15A Right headlight (high beam), front fog lights (Japan)
19
15A Left headlight (low beam), fog lamp relay, beamwidth control
20
15A Right headlight (low beam), beam width adjustment
21
15A Left position lights (front and rear), license plate light, ashtray light, heater control panel light, heated rear window and sunroof switch light, left instrument panel light, radio light, ambient temperature sensor
22
15A Seat belt illumination, right position lamps (front and rear), center console compartment illumination, fog lamp relay, seat heating switch illumination, gear selection panel illumination, rear ashtray illumination
23
25A Heated front seats
24
'90–'92: SRS test socket
25A '94–'95: ABS
15A '94–'95: ABS
25
15A '90-'92: Rear fog lights
'93–'95: Rear fog lights (USA, CND, Japan), switchable low beam (Nordic, Netherlands, Belgium)
26
25A Radio, Amplifier, CD Changer
The fuse number 14 is responsible for the operation of the cigarette lighter.
On 1990-1993 vehicles equipped with an anti-lock braking system (ABS), the system is protected by an additional 10 amp fuse located under the instrument panel to the left of the steering wheel.
Relay
Diagram
Designation
| | |
| --- | --- |
| A | Lamp Warning Sensor |
| B | Seat Belt Reminder/Key Warning |
| C | Intermittent wiper |
| D | Intermittent Wiper (Tailgate – Estate) |
| E | Fuel injection |
| F | Front fog lights |
| G | headlight flasher |
| H | Exhaust gas temperature sensor (Japan) |
| I | overdrive |
| J | Overload (power windows/heated seats) |
| K | Headlight |
| L | Central locking |
| M | Rear fog lamp |
| N | High Beam Overload (Except USA, CND) |
| O |  – |
| P |  – |
| R |  – |
| S |  – |
Do you have any questions? Ask them in the comments.