Toyota Town Ace Noah common name and series of minivans that were produced in 1985, 1986, 1987, 1988, 1989, 1990, 1991, 1992, 1993, 1994, 1995, 1996, 1997, 1998, 1999, 2000, 2001, 2002, 2003 , 2004 to the present time in various modifications and generations. In this material, we will show the locations of the electronic control units, a description of the purpose of the fuses and relays of the Toyota Town Ice Noach of the most popular versions. Note the cigarette lighter fuse.
The design of the boxes, the purpose of the elements in them, as well as their arrangement, may differ from the one presented and depend on the year of manufacture and the level of electrical equipment.
Location
Type 1
Diagram (up to 1998)
Assignment
ABS relay box
engine compartment relay box # 2 (RJB # 2)
sliding sunroof control relay
relay system EasyClose
TV tuner
heater mode relay "FOOT"
air conditioner relay
air conditioner amplifier
air conditioner electronic control unit
relay for sliding door control system (from 01.1998)
relay for sliding door control system (up to 01.1998)
remote lock receiver
ABS electronic control unit
parking electronic control unit
mounting block under the dashboard
relay box (right)
relay box (sliding sunroof relay)
audio amplifier
SRS electronic control unit (central SRS sensor)
electronic engine control unit
Type 2
Diagram (from 1998)
Designation
ABS relay box
remote lock buzzer
relay box No. 2 in the engine compartment (R / B No. 2)
left front SRS sensor
right front SRS sensor
sliding sunroof control relay
air conditioner relay
heater mode relay "FOOT"
TV tuner
sliding door control unit
sliding door buzzer
relay system EasyClose
air conditioner amplifier
remote lock receiver
sliding door control relay
electronic parking system control unit
ABS electronic control unit
mounting block under the dashboard
relay box (right)
SRS electronic control unit (central SRS sensor)
rear view control unit
electronic engine control unit
Passenger compartment fuse box
The main fuse and relay box in the passenger compartment is located under the dashboard, on the driver's side, behind the protective cover.
Type 1
Photo – an example of execution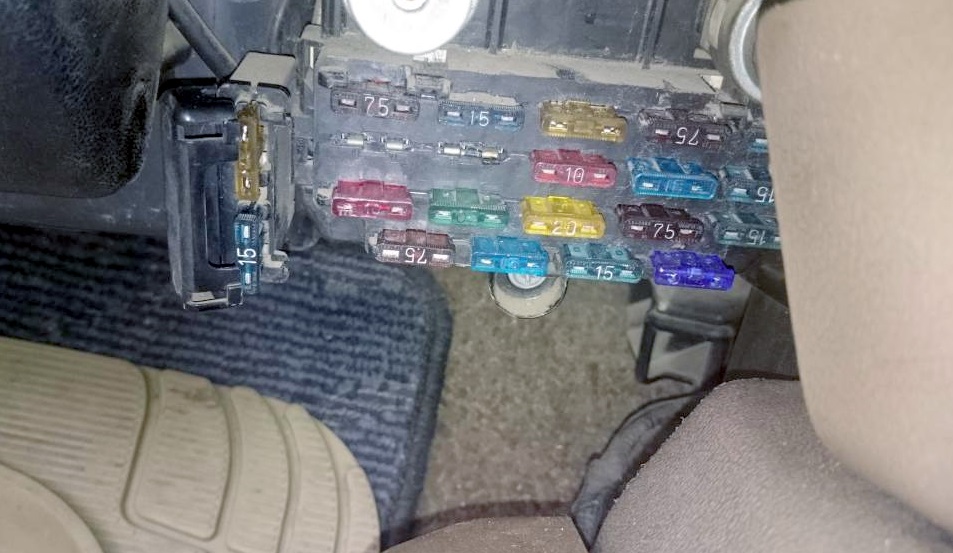 Diagram
Protected components
main injection relay for 3Y-EU;
fuel heating relay for diesel engines;
mounting block # 1;
tailgate relay;
thermal fuse for the front heater 30A;
headlight relay;
EFI engine management and self-diagnostics system;
starter;
mirror control of the unit for adjusting the mirrors;
front heater fan relay;
POWER power thermal relay, below the thermal relay of the rear heater fan without number;
main motor relay.
IGN – ignition;
STOP – brake lights;
GAUGE – O / D valve, instrument panel warning lamps, 2WD-4WD switching valve;
CHARGE – battery charging system (lamps);
TAIL – side lights;
ECU + B – (electric control unit battery) – electric control unit powered by battery;
DOME – interior lighting;
ECU + IG – (electric control unit ignition) – electric control unit for power supply from the ignition lock;
DEFOG – rear window heating;
HEAD (LH) – left head light;
ENGINE – consumers – distributor, main relay, control units;
A / C – air conditioner;
WIPER – windscreen wipers;
TURN – turn indicator system;
HEAD (RH) – right head light;
RADIO – radio;
CIG – watch, cigarette lighter;
FOG – fog lights;
HAZARD – alarm, sound signal.
Type 2
Diagram
Appointment
1
10A ECU-B – Anti-lock braking system
2
15А H0RN-HA2 – Sound signal, alarm
3
5A ST – Starter
4
10А STOP – Stop lights
5
15A ACC – Radio tape recorder, clock, cigarette lighter
6
10А GAUGE – Ignition relay, reversing lights
7
5A IGN – Electronic engine control unit
8
15А DEF – Socket for connecting additional devices
9
10A TAIL – Direction indicator
10
15А RR CIG – Rear cigarette lighter
11
20А WIP – Front and rear dimensions, license plate light
12
10А TURN – Windscreen wipers and washer
13
5A ECU-IG – Heated rear door glass
14
10A HTR – Electronic engine control unit, Heater
15А RR HTR (SW) – Rear heater
Type 3
Check the purpose of the elements with your diagrams on the back of the box cover.
On the reverse side of the box, the relay for the drive of windows and direction indicators are attached.
85975A RELAY, SLIDE DOOR CLOSER
94120-41000 NUT(FOR CLUTCH PEDAL STOPPER)
84340 SWITCH ASSY, STOP LAMP
84520 SWITCH ASSY, CLUTCH START
82730 BLOCK ASSY, INSTRUMENT PANEL JUNCTION
82600F FUSE, FUSE BLOCK
82600G PLATE, CAUTION(FOR FUSE)
82661A COVER, RELAY BLOCK, NO.2
85925D RELAY, PTC HEATER
85910Y RELAY, REAR HEATER
81980 FLASHER ASSY, TURN SIGNAL
85930 RELAY ASSY, POWER WINDOW
Fuse and relay box under the hood
Located on the left side, next to the battery.
Diagram
Decoding
ALT-S 5 A Generator
DOME 10 A Interior lighting
RAD 10 A Radio
FOG 15 A Fog lights
CLOSER 15 A Sliding door closing aid
EFl (petrol) 15 A Fuel injection system / FUEL HTR (diesel) 20 A Electronic engine control unit
AM2 20 A Ignition lock
CDS FAN 20 A Condenser fan
H-LP (RH) 10 A Right headlight
H-LP (LH) 10 A Left headlight
A / C 10 A Air conditioner
R1 A / C compressor relay
R2 headlight relay
R3 main relay of the injection system
R4 heater relay
R5 fan relay
R6 glow plug relay
R7 fog lamp relay
R8 starter relay
R9 fuel heater relay
If you know how to make the material better – write in the comments.