Skoda Felicia is a subcompact car produced in 1994, 1995, 1996, 1997, 1998, 1999, 2000 and 2001 with hatchback bodies, station wagon (felicia combi), van. Most often, engines with a volume of 1.3, 1.6 gasoline and 1.9 diesel were installed on them. We will show the location of the boxes with fuses and relays in the Skoda Felicia, its diagram with a designation of the purpose of the elements.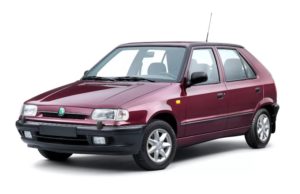 Passenger compartment
The main fuse and relay box is located under the dash on the passenger side. Unscrew the cover fastener to access.
Photo for example
Diagram
Fuse box
10A – Power supply to the injection control unit

20A – Windshield wipers and washers for front and rear windows

25A – Stove fan, air conditioner

15A – Power supply of the engine control unit systems

10A – Right front fog lamp

10A – Left front fog lamp, control lamp

10A – Low beam of the right headlight

10A – Dipped beam of the left headlight, control lamp

10A – High beam of the right headlight

10A – High beam of the left headlight, control lamp

7.5А – Right front and rear dimensions, buzzer of the warning system about not turned off dimensions

7.5A – Rear fog lights, control lamp

30A – Heated rear window, warning lamp, heated side mirrors with heating

15A – Braking signal, turn signals when the "alarm", ABS / EDS is turned on

15A – Cigarette lighter, interior lighting, clock

15A – Headlight washer pump, central lock control unit

25A – Coolant radiator fan, "blinking" high beam, signal

25A – Electric windows

15A – Illumination of the size switch in the off state, TZ level sensor, power supply of the warning system buzzer about not switched off dimensions, control lamps for low oil pressure, hand brake, battery charging system (generator), heated rear window, airbags, drive of electrically controlled side mirrors, heated seats

15A – Power supply to the carburetor or injection control unit, immobilizer, high voltage unit

15A – Turn signals, reverse signal

7.5А – Left front and rear dimensions, license plate lighting, trunk lighting, illumination of all buttons, instrument panel, cigarette lighter, electric mirrors control switch, control lamp of dimensions, radio tape recorder
The fuse number 15 at 15A is responsible for the cigarette lighter.
Relay
| | |
| --- | --- |
| R1 | High beam relay |
| R2 | Front fog lamp relay |
| R3 | Rear fog lamp relay |
| R4 | Heated rear window relay |
| R5 | Relay for injection system Bosch Mono-Motronic |
| R6 | Relay for blocking the ignition system (when the door is open – only on some models) AKIN, SPDP |
| R7 | Ignition switch unload relay (X-relay) |
| R8 | Alarm relay |
| INT | Rear wiper and washer relay |
| W-W | Front wiper relay |

Fuses for some of the additional systems (ABS, K / V) can be installed under the hood on the left side of the engine compartment. This is especially true for diesel engines (fuses for the preheat system and the cooling fan).