The 5th generation Ford Mondeo began arriving in Europe in 2015. In the US, it has been produced since 2012 under the name Fusion. Therefore, we can say that this model was sold all over the world in 2013, 2014, 2015, 2016, 2017, 2018, 2019 and 2020. During this time, the car was restyled 2 times. In our material you will find a designation of the fuse boxes and relays Ford Mondeo Mk5 (Ford Fusion). We will show the locations of the boxes and their diagrams with photo examples of execution. Separately, we will highlight the fuses responsible for the cigarette lighter and tell you how to find out the factory code from the door for keyless access to the salon.
Please note that the number of elements in the boxes and their purpose may differ from yours and depends on the year of manufacture, the level of equipment and the country of delivery. Check the assignment against your diagram on the back of the protective cover.
Passenger compartment
It is located on the left side of the dashboard and is combined with the BCM (body conrol module) For comfortable access, part of the protection must be removed.
  Location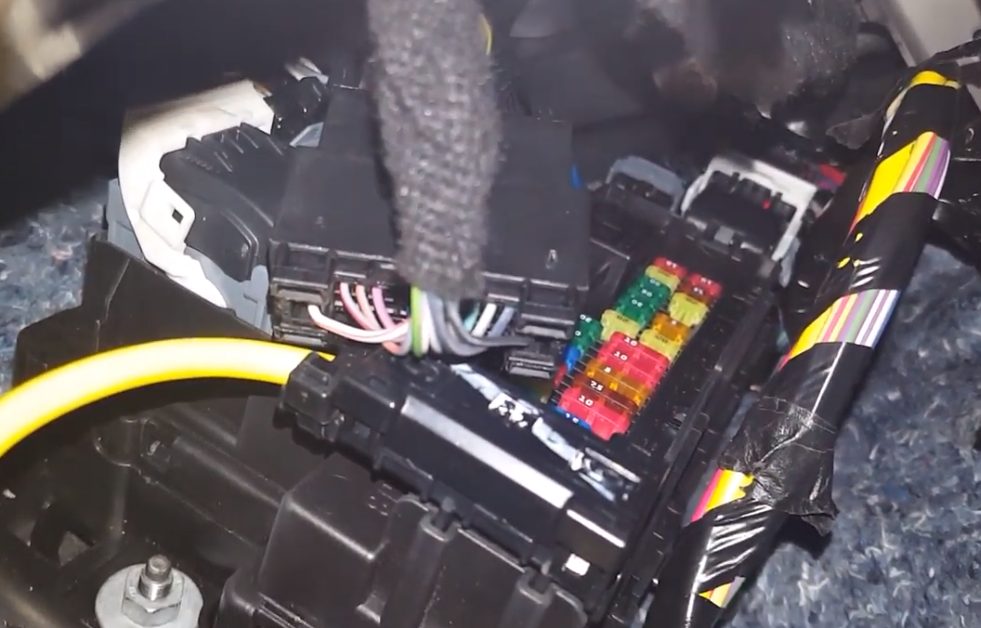 the photo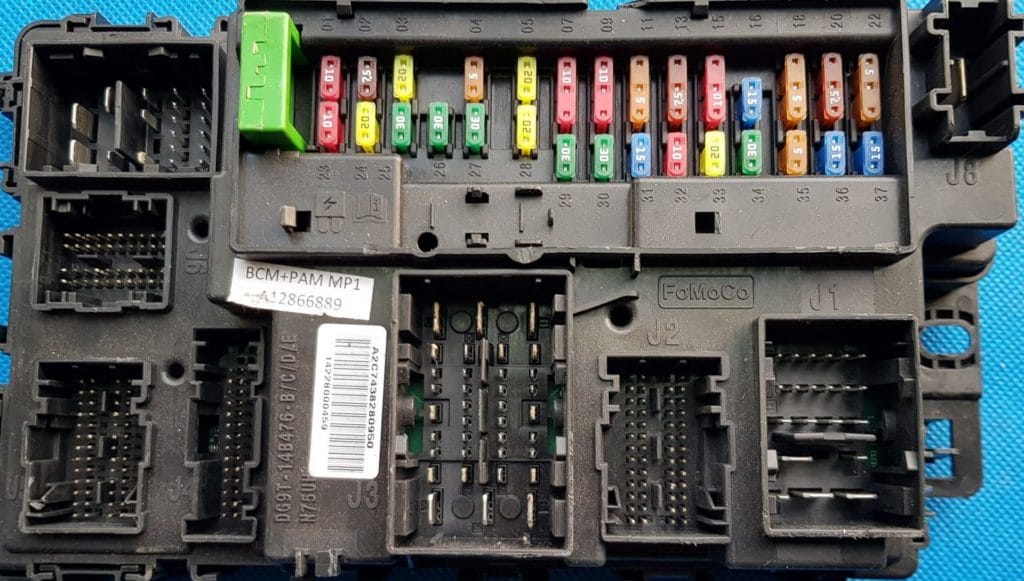 Designation
1

10A Lighting, glove box lamp, vanity mirror lamp, ceiling lamp, luggage compartment lamp.

2

7.5A Seat with memory function, lower backrest of the driver's seat, outside mirrors with electric drive.

3

20A Unlocking the driver's door.

4

5A Reserve

5

20A Subwoofer Amplifier

6

10A Reserve

7

10A Reserve

8

10A Anti-theft alarm horn

9

10A Reserve

10

5A Power Tailgate Module, Keypad, Mobile Phone Module

11

5A General safety module

12

7.5A Climate control, gearbox

13

7, A Steering column, dashboard, data connection

14

10A Extended Power Module

15

10A Data link gateway

16

15A Childproof lock, luggage compartment lifting glass unlocking

17

5A Acoustic signal for turning on the emergency power supply from the battery

18

5A Ignition switch, Ignition switch with start / stop push button

19

7.5A Passenger airbag deactivation indicator, transmission

20

7.5A Headlight control module

21

5A Interior thermometer.

22

5A Reserve

23

10A Power supply circuit delayed off auxiliary equipment

24

20A Central locking

25

25A Driver's door and mirror

26

30A Door and passenger mirror

27

30A Luke

28

20A Sound amplifier

29

30A Rear door window, driver's side

30

30A Rear door window, passenger side

31

15A Reserve

32

10A Global Positioning System Module, Voice Control, Display, Radio

33

20A Radio receiver, noise control

34

30А Bus "start / stop" (fuse 19, 20, 21, 22, 35, 36, 37, circuit breaker).

35

5A Airbag and seat belt control module.

36

15A Auto-dimming interior mirror, heated front and rear seat module, lane marking system, automatic high beam.

Climate controlled seats.

37

15A All-wheel drive module.

Heated steering wheel.

38

30A Reserve
How to find out the door code
4 ways to find out the factory door code (KEY CODE):
Check the code in the documents on a separate card;

The code can be found if you have two keys with the car.

Put in the first key, turn on the ignition (but don't start the car), hold for 4 seconds, pull out the key, put in the second and do the same.

The factory code will appear on the dashboard;

If the previous two points are not present, then the factory code can be found under the fuse box on the back;

Read from a computer using a diagnostic cable.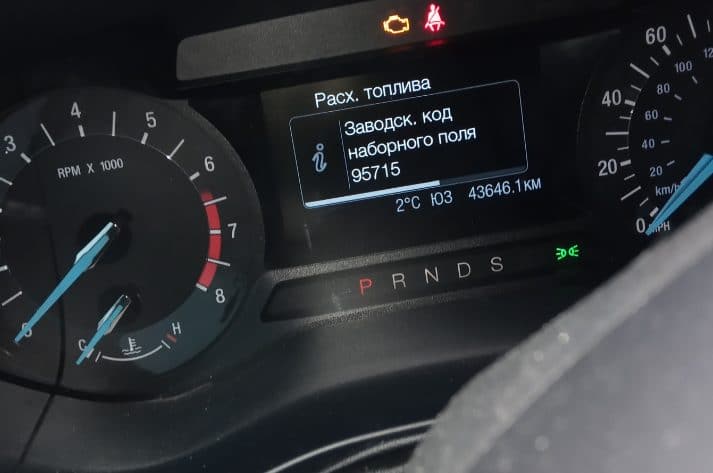 Engine compartment
It consists of 2 sections and is located on the left side, next to the stand and is closed with a protective cover.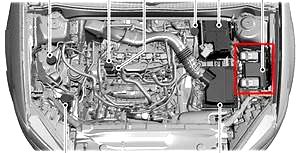 Upper section
The photo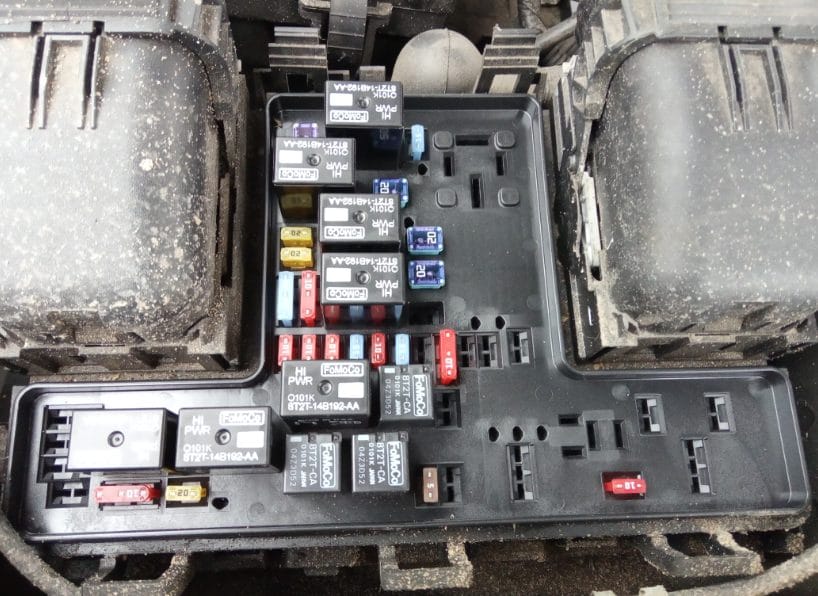 Diagram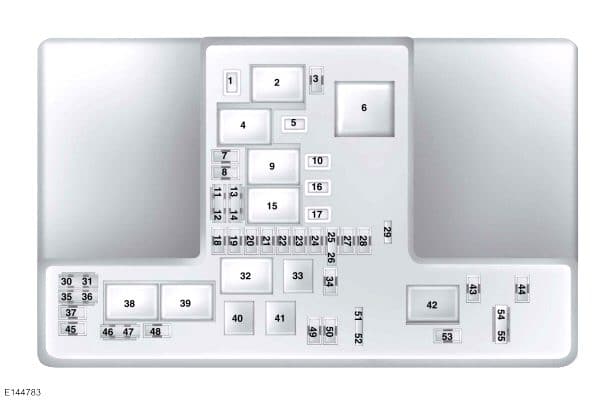 Designation
1

25A Windshield wiper 30A Hatch

2

Starter relay

3

15A Automatic operation glass wipers, rain sensor, rear wipers

4

Relay for electric blower fan

5

20A Accessory power outlet on the rear of the console

6

Relay for auxiliary heater

7

20A Powertrain control module

8

20A Powertrain control module

9

Powertrain Control Module Relay

10

20A Front auxiliary power sockets, driver's side

11

15A Powertrain control module

12

15A Powertrain control module

13

10A Powertrain control module

14

10A Powertrain control module

15

Run / Start Relay

16

20A Auxiliary power outlet on console,

cigarette lighter

17

20A Additional power socket in the luggage compartment

18

10A Powertrain control module

19

10A Power steering

20

10A Illumination of position "start / stop", cruise control

21

15A Transmission control module, transmission oil pump

22

10A Air conditioning system

23

15A.

Start / Stop, Blind Spot Alert, Rear View Camera, Adaptive Cruise Control, Proximity Warning, Voltage Quality Module, Air Quality Sensor

24

10A Reserve

25

10A Anti lock brake system, ABS

26

10A Powertrain control module.

27

10A Reserve

28

10A Rear window washer pump.

29

5A Air mass meter

30

Reserve

31

Reserve

32

Cooling fan relay

33

Air conditioning relay

34

15A Electric steering column lock.

35

Reserve

36

Reserve

37

Reserve

38

Cooling fan relay

39

Cooling fan relay

40

Horn relay

41

Horn relay

42

Fuel pump relay

43

Reserve

44

5A Heated washer spray

45

Reserve

46

10A Generator

47

10A Brake Switch

48

20A Sound signal

49

5A Air flow sensor 20A Heating element for diesel fuel

50

10A Cooling fan, transfer case 20A Signal

51

Reserve

52

Reserve

53

10A Power seats.

54

5A Remote control for fuel-fired heater, 10A Brake switch

55

10A ALT sensor
For the operation of cigarette lighters and USB sockets, fuses 17, 16, 10 and 5 at 20A are responsible.
Lower section
Access example
Diagram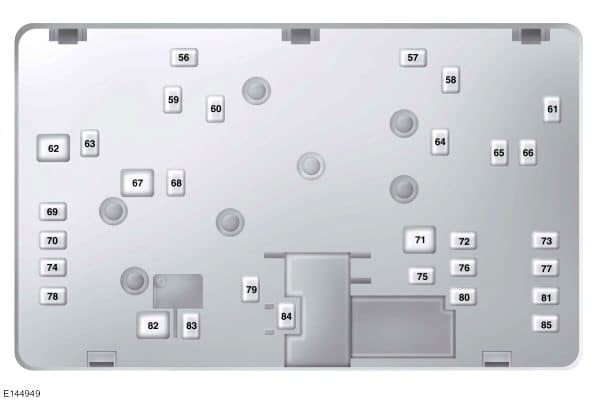 Appointment
56

30A Fuel pump

57

20A Diesel fuel vaporizer

58

Reserve

59

30 / 40A Cooling Fan (DW10F and 2.0L GTDI AU)

60

30 / 40A Cooling Fan (DW10F and 2.0L GTDI AU)

61

40A Heated windshield (left side)

62

50A Body systems control unit

63

20 / 30A Cooling Fan (DW10F and 2.0L GTDI AU)

64

30A Additional heater

65

20A.

Heated front seats

66

40A Heated windshield (right side)

67

50A Body systems control unit

68

40A Heated rear window

69

30A Anti lock brake system

70

30A Passenger seat

71

60A Additional heater

72

20A Fuel pump 30A Hatch

73

20A Rear heated seat

74

30A Driver's seat module

75

30A Additional heater

76

20A transmission oil pump

77

30A Climate controlled seat module

78

40A Trailer towing module

79

40A Electro blower fan.

80

30A Power module in the luggage compartment.

81

40A Inverter 220 V.

82

60A Anti-lock brake system pump.

83

25A Cleaner motor

84

30A Starter solenoid.

85

20A Fuel-fired heater 60A Anti-lock brake pump
If you have any questions or want to help supplement the material, write in the comments.