Citroën Berlingo is a light commercial vehicle produced in various modifications and equipment since 1996. The first generation was delivered to the market in 1997, 1998, 1999, 2000, 2001, 2002, 2003, 2004, 2005, 2006 and 2007. After a complete update, the 2nd generation was produced in 2008, 2009, 2010, 2011, 2012, 2013, 2014, 2015, 2016, 2017, 2018, 2019. We present information about all fuses and the relay box Citroen Berlingo for 1st and 2nd generation with a detailed description of the circuits.
The main fuse boxes for the two generations are :
on the left under the dashboard (under the cover)

in the engine compartment (near the battery under the protective cover).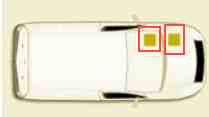 1st generation
Engine compartment
Box photo
Diagram
Designation
| | |
| --- | --- |
| F1 | 10A Reversing light, preheating unit, clutch release contact |
| F2 | 15A Gasoline pump |
| F3 | 10A Electronic control unit (ECU) of the ABS system |
| F4 | 10A engine ECU |
| F5 | 10A Reserve |
| F6 | 15A Front fog lights |
| F7 | 20A Headlight washer |
| F8 | 20A engine ECU, fan relay |
| F9 | 15A Left low beam lamp |
| F10 | 15A Right low beam lamp |
| F11 | 10A Left high beam lamp |
| F12 | 10A Right high beam lamp |
| F13 | 15A Sound signal |
| F14 | 10A Windshield washer |
| F15 | 30A Engine sensors |
| F16 | 30A Air pump |
| F17 | 30A Windshield wiper |
| F18 | 40A Electro climate control fan |
Passenger compartment
Diagram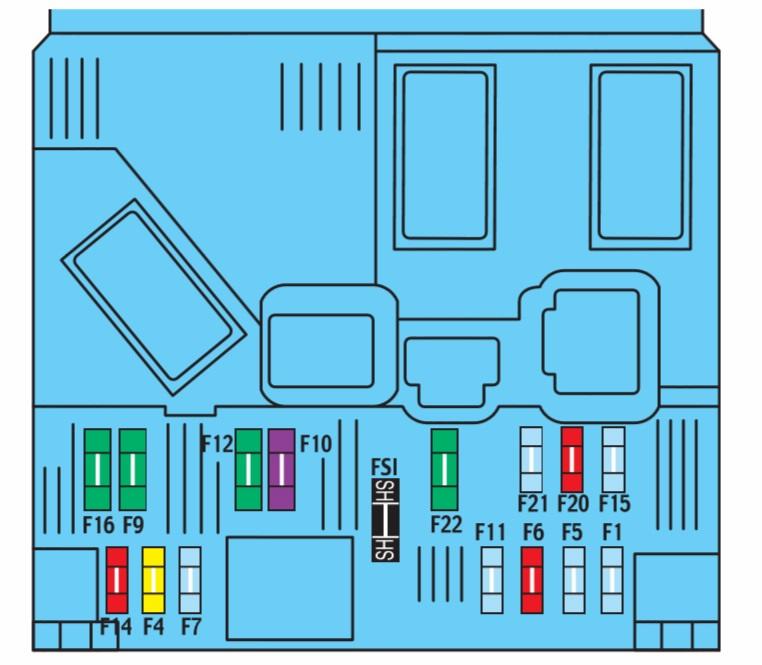 Assignment
| | |
| --- | --- |
| F1 | 15A Rear window wiper (with swing doors), 12V socket (Modutop) |
| F4 | 20А Autoradio tape recorder instrument cluster, display, СОМ2000 |
| F5 | 15A Alarm siren |
| F6 | 10A Diagnostic connector Citroen Berlingo |
| F7 | 15A Burglar alarm |
| F9 | 30A Seat heating system, Modutop electric fan |
| F10 | 40A Heated rear window, electrically heated exterior mirrors |
| F11 | 15A Rear window wiper |
| F12 | 30A Electric sunroof, electric windows Citroen Berlingo |
| F14 | 10A Network VAN COM2000 |
| F15 | 15A VAN network instrument cluster, car radio, display |
| F16 | 30A Electric door locks |
| F20 | 10A Rear right brake light |
| F21 | 15A Rear left brake light |
| F22 | 20A Cigarette lighter fuse Citroen Berlingo, 12V socket, electric door mirrors, interior lamps, directional light for reading cards and documents |
The fuses number 1 and 22 are responsible for the cigarette lighter.
2nd generation
Engine compartment
Main fuse box
Diagram
Circuit breakers
F1 20A Engine control computer – power supply to the electric control unit for the two-speed group of the electric fan

F2 15A buzzer

F3 10A front and rear washer

F4 20A Headlight washers

F5 15A + accumulator Fuel heating system DV6 – fuel pump TU5JP4

F6 10A + after contact, computer and double relay of ABS / ESP systems – steering wheel angle sensor – gyrometer acceleration meter for stability control system – electric pump mechanism for power steering

F7 10A contact brake sensor – clutch pedal limit switch

F8 25A starter coil

F9 10A after contact, protection blocking module 3 relay – headlight range control motor

F10 30A Ignition coil control TU5JP4 – injector control TU5JP4 – supply to the solenoid valve of the injection pump DV6

F11 40A activation of the blower relay

F12 30A Front wiper low and high speed control

F13 40A after contact power supply CM (intelligent service module)

F14 30A Exhaust gas temperature recuperation pump control

F15 10A right high beam headlamp

F16 10A left high beam headlamp

F17 15A left low beam headlamp

F18 15A right low beam headlamp

F19 15A Tank cleaning solenoid valve TU5JP4 – oxygen sensors at the inlet and outlet TU5JP4 – solenoid valve for turbocharging air heating 1-2 DV6

F20 10A Liquid-in-fuel sensor DV6 – Turbocharger pressure control solenoid valve DV6 – Exhaust temperature control solenoid valve




F21 5A Air flow meter DV6 – Power supply to the electric control unit for the two-speed fan group Maxi fuse module (PSF1)
Relay
R1 main relay of engine control computer

R2 power circuit relay engine control computer

R3 air supply relay

R4 windscreen wiper relay

R5 low speed front wiper relay – high speed front wiper relay

R6 distributor relay + after contact

R7 A / C blower relay

R8 starter relay

R9 front washer relay

R10 rear washer relay

R11 headlight washer relay

R12 horn relay
Battery cover box
Diagram
Assignment
Charge Status Module – 5A

Diagnostic connector – 15A

Resistance of the brake pedal switches – 15A

–

Power steering electric pump group power – 80A

Pre-heating control module – 70A

Protection blocking module 3 relays – 100A

–

–

Simple motor protection relay – 30A
Passenger compartment
Main fuse box
Diagram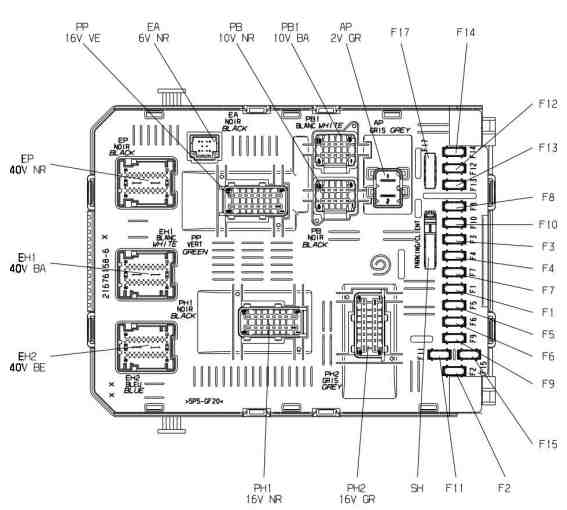 Designation
15A – Rear window cleaner

–

5A – Airbag

10A – Air conditioning, diagnostic connector, rear-view mirror, headlight regulator

30A – Windows

30A – Locks

5A – Rear plafond, front plafond of individual lighting, sunroof

20A – Car radio, CD changer, display, tire pressure monitoring unit, burglar alarm and siren

30A – 12 V sockets front and rear

15A – The upper part of the steering column

15A – Small current circuit of the ignition switch

15A – Rain and light sensor, airbag

5A – Instrument panel

15A – Parktronic, air conditioning control panel, hands-free system

30A – Power supply of the locking system of locks

–

40A – Heated rear window and mirrors
The fuse number 9 is responsible for the cigarette lighter.
Relay
R1 – Front impulse power window relay

R2 – Rear window wiper relay

R3 – Relay accessories + ACC

R4 – Door lock relay

R5 – Relay super locking rear doors

R6 – Front door super lock relay

R7 – Computer wake-up relay

R8 – Heated rear window relay
Box 2 diagram
Decoding the elements
–

20A – Heated seats

–

15A – Relay folding rear-view mirrors

15A – Relay of a socket for connection of a refrigerating chamber
Additional box
If the vehicle is equipped with the appropriate systems, an additional fuse box is installed on it for the hitch and trailer, as well as for other body modifications and platforms with a cab. It is located behind the boundary wall on the right.
Diagram
Here are located:
15A – ignition switch relay, optional generator

15A – Trailer power supply 12V

15A – DC power supply circuit of transformers

40A – Emergency lights
On our YouTube channel, we also posted a video. Watch and subscribe.
And if you know how to make this post better – write in the comments.