The start of production of the Audi A4 B5 is 1994. With minor changes, it was produced until 2001. At first, only the sedan version was available, the station wagon (Avant) appeared a year later. This material provides information on relay circuits and fuses Audi A4 b5 1994, 1995, 1996, 1997, 1998, 1999, 2000, with an assignment of their elements and locations.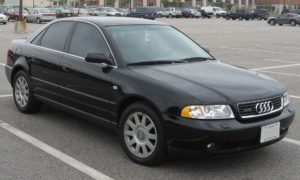 The location of the fuses may differ from the one shown and depend on the vehicle equipment and year of manufacture.
Passenger compartment
Main fuse box
It is located in the passenger compartment on the left side of the side panel. Inside the lining (3) on the left end side of the dashboard, in the clip there are small plastic pliers (2) for removing the fuses and a crank (4) for emergency operation of the sliding roof. The figure below shows the location of the fuses in the box (1).
The relays are located on the central distribution board under the instrument panel behind the left footwell cover.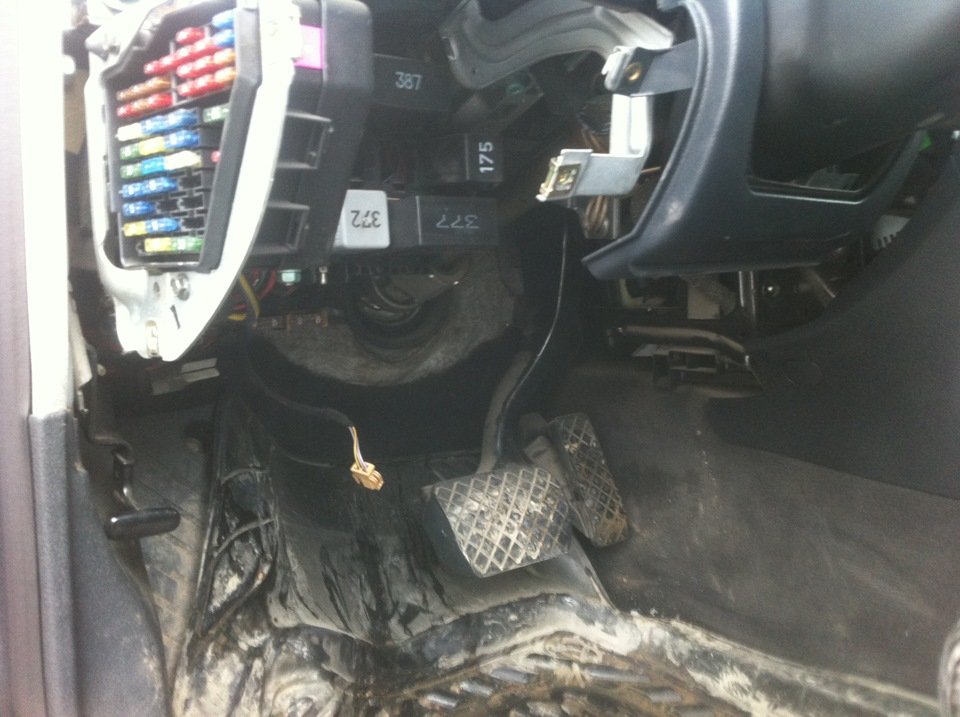 Diagram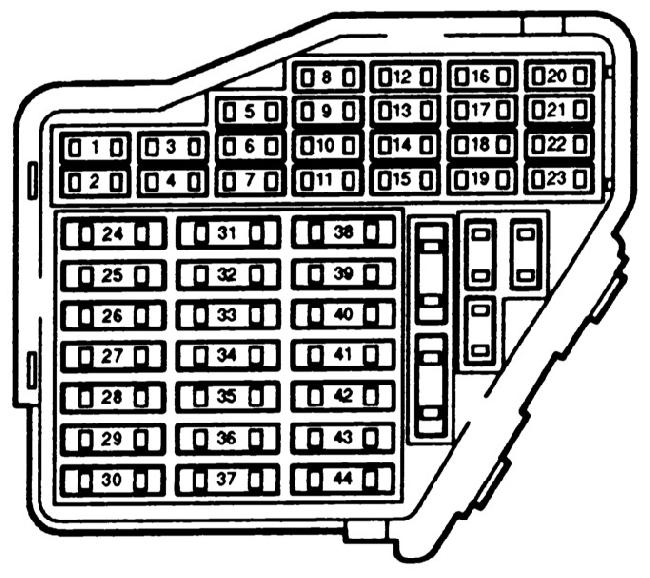 Protected components
Purpose of fuses Audi A4 B5

1

5A Heated washer nozzles

2

10A Direction indicators

3

5A Headlight washer relay, Lighting: glove box (glove compartment), engine compartment, air conditioner, automatic transmission, instrument panel

4

5A License plate lighting

5

10A Instrument panel, heated seats, automatic transmission display.

mirror switch, pump Airbag outside temperature indicator, navigation system, parking lights

6

5A Central locking, reading lamps

7

10A ABS system

8

5A Phone

9

10A Heated mirrors and door locks

10

5A Headlight range control, CD – changer

11

5A Cruise control [automatic transmission]

12

10A Built-in diagnostics

13

10A Stop lights

14

10A Interior lighting, reading lamps, anti-theft system, passenger visor mirror

15

10A Instrument panel, automatic transmission [4-speed], air conditioning, navigation system

16

5A ABS system

17

10A Heated door locks

18

10A Right high beam

19

10A Left high beam

20

15A Right low beam, headlight corrector

21

15A Left low beam, headlight corrector

22

5A Right side lights

23

5A Left side lights

24

25A Windshield wipers, washer pump.

Wiper breaker relay

25

30A Heater fan, air conditioner

26

30A Heated rear window, heated mirrors, air recirculation

27

15A Rear wiper

28

15A Fuel pump

29

15A Engine management

30

20A Electric sunroof

31

15A Reversing lights, cruise control, automatic transmission, diagnostic socket

32

20A Engine management

33

15A Cigarette lighter fuse audi a4 b5

34

15A Engine management (ignition / injection)

35

30A Trailer socket

36

15A Fog lights

37

15A Telephone, radio

38

15A Trunk lighting, central locking

39

15A Emergency lighting (emergency gang)

40

25A Signal

41

25A ABS system (hydro modulator / pump)

42

40A Auxiliary Air Fan

43

5A S-pin (central locking, radio, navigation system)

44

30A Heated seats
Fuse number 33 at 15A is responsible for the cigarette lighter.
Diagram of an additional box with relays and fuses
On an 8-seat additional support
| | | |
| --- | --- | --- |
| | ABS hydraulic pump | |
| | Electric radiator fan | |
| | Radiator fan relay coil | |
| | Rear power window lifter | |
| | Power window, front | |
| | Central locking and anti-theft alarm system | |
Relay box
On vehicles with extensive equipment, an additional relay board is located behind the main board. Central distribution board – B. The relays are marked in black.
Diagram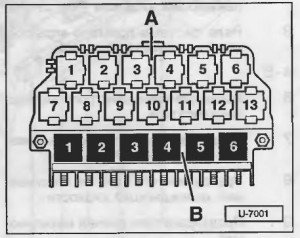 Designation
| | |
| --- | --- |
| 1 | Unloading relay for contact X |
| 2 | Horn relay |
| 3 | Relay for headlamp cleaning system |
| 4 | Automatic transmission relay (starter interlock and reversing lights] or, respectively, a jumper for a manual transmission |
| 5 | Intermittent mode relay for cleaning and flushing system |
| 6 | Relay for fuel pump or glow plugs |
Relay Main Board – A
3

Electromagnetic clutch relay (air conditioning)

4

Signaling device control unit

5

Signaling device control unit

7

–

8

Daytime running light relay

9

Headlight relay

10

Fog lamp relay

11

Control unit for folding mirror

12

Control unit for folding mirror

13

–

14

Fuse for special signaling system [taxi]

15

–

16

Fuse for special signaling system [taxi]

17

Fuse for taximeter [taxi]

18

System hydraulic pump fuse [ABS]

Transmitter Fuse [Taxi]
Engine compartment
Eelectronics relay board
Located in the mounting block

Diagram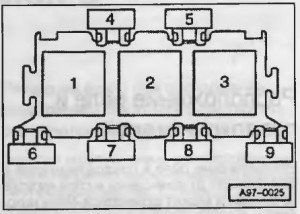 Assignment
1

Heated oxygen sensor relay

Glow plug relay I – coolant

2

Glow plug relay II – coolant

3

Diesel Direct Injection Relay

4-5

–

6

Fuse for the electrical equipment of the engine

7

Fuse I for glow plugs – coolant

8

Fuse II for glow plugs – coolant

9

Glow plug fuse
Additional relay board
| | |
| --- | --- |
| 1 | Rear fog lights turnip |
| 2 | Fan operating mode relay at maximum speed [Lufter voll auf] |
| 3 | Relay for fan operation in the first stage |
| 4 | Power window control unit relay |
| 5-15 | – |
| 16 | Seat adjustment fuse |
| 17 | – |
| 18 | System hydraulic pump fuse (ABS) |
| 19 | Radiator fan fuse |
| 20 | – |
| 21 | Radiator fan changeover coil relay |
| 22 | Rear power window relay |
| 23 | Front power window relay |
| 24 | Relay for central locking and anti-theft system |