Volvo 850 was produced in 1991, 1992, 1993, 1994, 1995, 1996, 1997. During this time, the model has been updated. In our article you will find a description of the Volvo 850 fuses and relays with fuse box diagrams, photographs and locations. Select the cigarette lighter fuse.
The purpose of the fuses and relays and their number may differ from those shown and depend on the year of manufacture and the level of equipment of your car.
Fuse and relay box
The main fuse and relay box is located under the hood on the left side.
It consists of three parts: one contains the fuses, the other – the relay (access to which is provided from the engine compartment).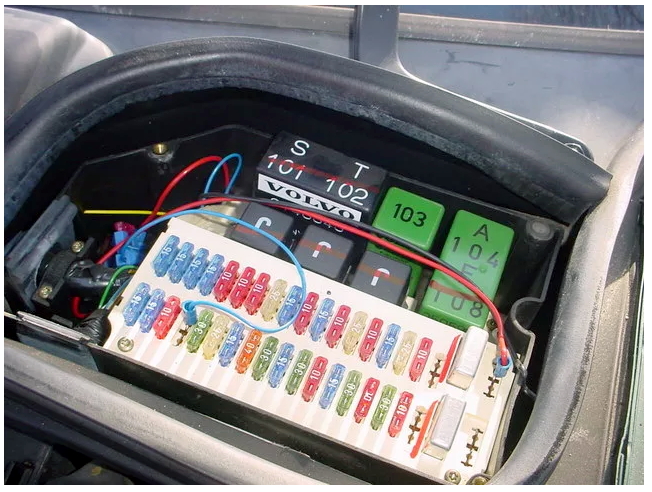 And another one is also a relay (access to which is provided under the dashboard).
Fuses
Diagram
Assignment
1
15A Injector, ignition, automatic transmission
2
15A Fuel pump, alarm
3
10A Exhaust gas temperature sensor, oil level and pressure sensors, interior lighting, speed alarm
4
10A Immobilizer
5
30A Heater fan (4th speed)
6
25A Central locking, alarm
7
15A Audio system (amplifier)
8
25A Antenna, trailer connector
40A Air pump, immobilizer
9
30A ABS, traction control
10
15A Heated rear seat
11
30A Heated rear window, heated mirrors
12
10A Stop lamps
13
15A Hazard warning, high beam warning, fault warning
14
30A ABS, traction control
15
10A Oil level and pressure sensor, audio system, diagnostic socket, interior lighting, glove box lighting, door lighting, door open warning lights, trunk lighting, remote central locking, seat belt warning
16
30A Antenna, trailer connector, accessories (accessories)
17
10A Seat belt warning, key warning
18
25A Heated front seats, power mirrors
15A Front fog lights
19
15A Left high beam
20
15A Right high beam, high beam indicator
21
15A Left low beam
22
15A Right low beam
23
10A Left position lights, license plate light
24
10A Right side marker lights, lamp failure indicator
25
10A Rear fog lights, fog light indicator
26
25A Heated front seats, power mirrors
27
15A Reversing lamps, direction indicators, TRACS
28
10A Cruise control, heated rear window, seat belt indicator, automatic transmission "P-shift lock" (lock in the "parking" position), lamp failure indicator, heated rear seats
29
15A ABS, traction control
30
10A Cigarette lighter
31
25A Heater fan (1-3rd speed), heater, air conditioning compressor
32
10A Audio system, central locking remote control
33
15A Power seats, diagnostic connector, rear window wiper (Wagon)
34
25A Wiper and washer, horn, headlight cleaner
35
10A Ashtray lighting, instrument and control lights, rheostat, electric sunroof
36
–
37
Automatic fuse: Power windows, sunroof
38
–
39
Automatic fuse: Power driver's seat
40
Automatic fuse: Power passenger seat
The number 30 fuse is responsible for the cigarette lighter.
Relay
Main relay box
Diagram
Designation
101
Cruise control
102
103
Fuel pump
104
Headlights
105
Overload relay (+X)
106
Overload relay (+15)
107
Overload relay (+X)
108
headlight relay
Elephant Relay Box (Driver's Side, Top Left Behind Sound Absorbing Panel)
201
Oil level sensor (or lamp warning relay)
Fog lights
202
Deadlock Settings
203
Wiper
204
Rear Wiper (Wagon)
205
Relay for central locking and interior lighting delay (location (205) is shorted with a jumper if the car is not equipped with central locking)
206
207
Vehicle speed warning
208
Heated rear window, heated mirrors
209
Not used
210
Signaling
211
212
Fasten seat belt warning
213
Gear selector lock in "P" position
Front fog lights
214
Rear seat heating
215
Not used
Additional relays under the hood
Diagram
Allocation
ABS multi-position relay
Fan relay
Fuel system main relay
Relay for maintaining the microclimate
The climate control relay is located behind the glove box. To access it, remove the glove compartment by unscrewing the four screws.
Do you have any questions? Ask them in the comments.