Volkswagen Lupo was produced mainly in the body of a 3-door hatchback in 1998, 1999, 2000, 2001, 2002, 2003, 2004, 2005 and 2006. Positioned as a city car with low fuel consumption. In this material you will find a designation of the purpose of fuses and relays in Volkswagen Lupo, diagrams and photographs of the boxes in which they are located, as well as highlight the fuse responsible for the cigarette lighter.
Control units
locations of all control units
Passenger compartment
Fuse box
It is located on the left side of the dashboard, under the steering wheel, behind the protective cover. To access, pull on the recess.
The photo
The actual assignment of fuses and relays depends on the equipment and the year of manufacture. Check the designation against the current diagram on the back of the protective cover.
Diagram
Designation
1

10A Heated lambda probe

2

5A License plate lighting

3

10A Injection nozzles

4

5A Side lighting on the left

5

5A Side lighting on the right

6

15A Rear window wiper

7

7,5А Direction indicators

8

5A Anti-lock braking system (ABS) with electronic stability control

9

5A Headlight range control

10

5A Interior lighting of salon

11

5A Supply voltage for self-diagnosis system

12

10A High beam, right headlight

13

10A High beam left headlight

14

10A Emergency alarm, anti-theft alarm

15

10A Brake signals

16

5A Buzzer reminding of incl.

side lighting and radio

17

5A Folding rear-view mirrors system

18

5A Heated mirrors

19

10A Two-tone horn, heated washer jets

20

10A CD changer, mobile phone

21

5A Automatic transmission

22

15A Anti-theft alarm siren

23

5A Fuel injection start valve, throttle valve, glow plug relay

24

5A Clutch pedal switch, diesel direct injection control unit

25

5A Automatic transmission selector

26

5A Air circulation system

27

5A Instrument panel

28

5A Speedometer, immobilizer sensor

29

7.5A Reverse light

30

5A Exhaust gas recirculation valve, electromagnet of an activated carbon tank

31

10A Control unit for top seam injection system

32

5A Fuel injection control unit

33

10A Automatic transmission control unit

34

10V Ignition system, speedometer sensor

35

25A Drive glass sunroof

36

15A Fuel injection system control unit

37

15A Fuel injection system control unit

38

25A Electric glass-lifter in the driver's door

39

15A Electric glass lifter in the front passenger door

40

15A Fuel pump

41

15A Central locking control unit

42

15A Radio receiver, navigation system

43

15A Fog lights (front and rear)

44

15A Low beam left headlight

45

15A Low beam of the right headlight

46

15A Cigarette lighter

47

20A Headlight cleaning system

48

20A Heated rear window

49

25A Outdoor air supply fan

50

15A Wiper

51

15A Heated seat
The fuse number 46 at 15A is responsible for the cigarette lighter.
Relay box
Located behind the fuse box.
Engine compartment
The main unit is located on the battery cover and consists of high power fuses and fuses.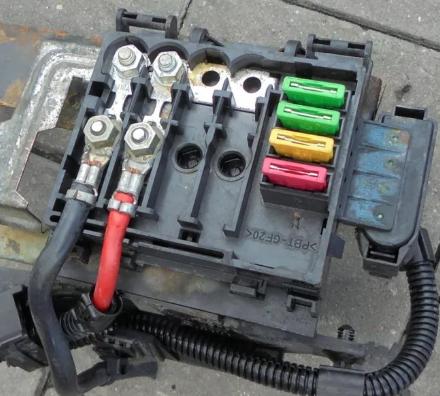 Diagram
Assignment
110A – Generator

80A – Board with relay

50A – Engine glow plugs

30 / 50A – Air conditioning / Cooling system

30A – ABS

30A – ABS

20A – Radiator cooling

10A – Air conditioner