The Hyundai Grace was produced in two generations and delivered worldwide. In some countries it is known as the Hyundai H-100. In this publication, we will show a assignment of Hyundai Grace (H-100) fuses and relays produced in 1992, 1993, 1994, 1995, 1996, 1997, 1998, 1999, 2000, 2001, 2002, 2003 and 2004 with box diagrams and their places location.
The purpose of the elements in the boxes and their arrangement may differ from that shown and depends on the year of manufacture, the region of delivery and the level of equipment.
Passenger compartment
The main fuse box is located under the dash on the driver's side.
Assignment of fuses
1

Interior lighting

2

Except EC:

 Stop lights




EC:

 Hazard warning lights

3

Horn, rear lights (except EC)

4

Glass heating

5

Except EC:

 Rear heater

5

EC:

 Fuel filter heating

6

Reversing lamps

7

Right headlight

8

Left headlight

9

central locking

10

Except EC:

 Rear cigarette lighter

10

EC:

 Rear heater, rear fog lamp

11

Front cigarette lighter

12

ABS, headlights

13

Wiper

14

Front heater

15

Fog lights

15

Rear left headlight

16

Alarm

16

Rear right headlight

17

Left power window

18

Right power window
Separately outside the unit, there may be some relays: turn signal and alarm relay, power window relay, rear lamp relay, rear heater relay, rear fog lamp relay.
Engine compartment
Power fuse box
Located next to the battery.
Diagram
Designation
A

40A Diesel engines: Generator, fuses # 1,2,3,15,16




Petrol engines: Generator, fuel pump relay, headlights, capacitor, fuses # 1,2,3,15,16

B

40A Ignition lock

C

40 / 50A With ABS: Modulator ABS




Without ABS: Fuse No. 4.5

D

50A Power window relay, AC fuses

IS

80A ABS modulator, alternator
Relay
Headlight relay (M02), relay with diode (M77)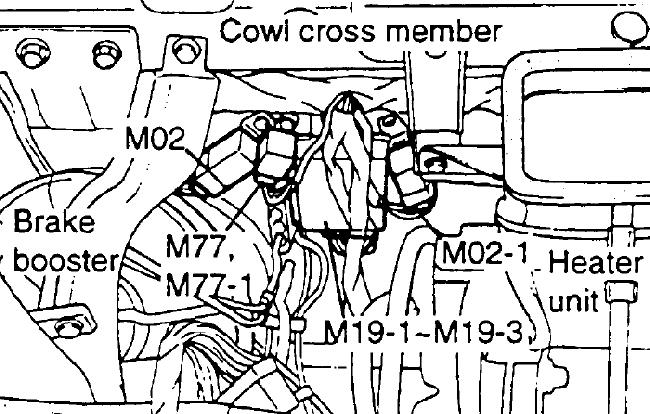 Wiper relay (M74), fuel filter relay (M84)
Fuel pump relay
Starter relay
Is there anything to add to the material? We will be glad to receive your comments.