The 2nd generation Honda Stepwgn was produced in 2001, 2002, 2003, 2004 and 2005 with designations RF3 – RF8. During this time, the model has been updated. In this material you will find a description of fuses and relays Honda Stepvagon 2 with fuse box diagrams, their locations and photographs. Select the cigarette lighter fuse.
The purpose of the fuses and relays may differ from the one shown and depends on the year of manufacture and the level of equipment of your vehicle.
Passenger compartment
In the cabin, the main fuse and relay box is located at the bottom of the instrument panel, on the driver's side. To access, remove the protective cover.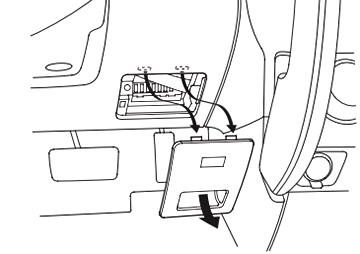 Photo example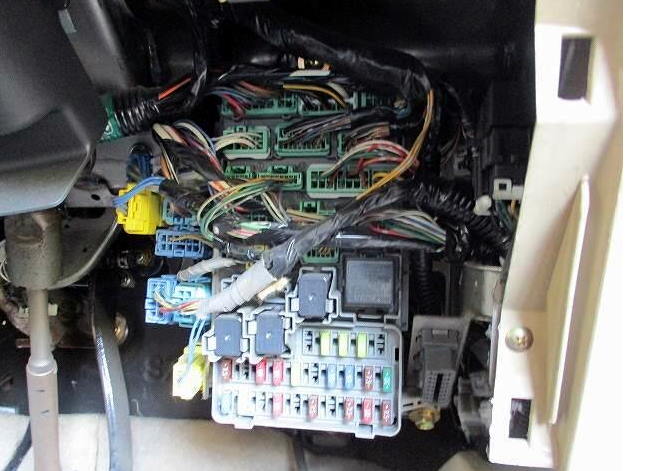 Diagram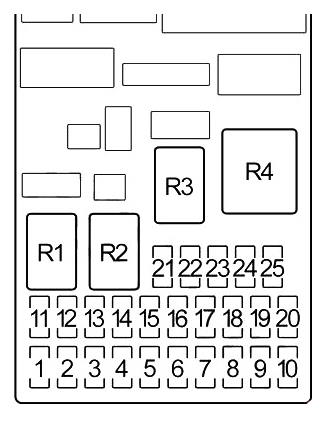 Designation
1
15A Ignition coils
2
10A Rear outlet
3
10A Daytime running lights, body electronics (Multiplex)
4
10A Alternator, Camshaft Position Sensor (CMP) A, Cruise Control, VSA OFF, Electrical Load Sensor (ELD), Gasoline Vapor Emission System (EVAP), Intake Manifold Valve (IMT), Secondary Oxygen Sensor (HO2S), Speed ​​Sensor (VSS) (M/T), Vehicle Stability Control (VSA), Variable Intake Manifold Length Valve (IMRC), ABS Control Unit ('03-'04)
5
–
6
7.5A Air Fuel Ratio (A/F) Sensor Relay, Sunroof Relay, Power Window Control Module, Power Window Relay
7
20A Sunroof relay
8
7.5A Instrument cluster, body electronics (Multiplex), gear selector lock, audio system
9
7.5A Front passenger seat occupied detection system, front passenger weight sensor, rear wiper, wiper switch
10
7.5A Reverse lamp relay (A/T), reverse lamp switch (M/T), instrument cluster, key receiver, body electronics (Multiplex), anti-theft system, ABS control unit ('02), selector lock relay gearboxes ('02-'04)
11
–
12
7.5A Daytime running lights (DRL), body electronics (Multiplex)
13
10A Airbag control unit (SRS)
14
10A A/C Compressor Clutch Relay, A/C Fan Relay, Heater Relay, Power Mirrors, Cooling Fan Relay, Heated Rear Window Relay, Air Recirculation Mode, Heated Seat Relay, Heater Control Module
15
15A '05-'06: Front Power Outlet Relay
20A '02-'04: Air Fuel Ratio (A/F) Sensor Relay
16
20A Seat heating relay
17
15A Fuel Pump, Engine Control Module/Powertrain Control Module (ECM/PCM), Front Passenger Airbag Deactivated Indicator, Immobilizer, Engine Control Module Main Relay (PGM-FI Main) 2, Airbag Control Module (SRS)
18
15A Audio system ('05-'06), front outlet, rear outlet
19
7.5A Hazard and direction indicators
20
20A Front wiper and washer, body electronics (Multiplex)
21
–
22
20A Front passenger window
23
20A Driver window regulator
24
20A Rear left power window
25
20A Rear right power window
Relay
R1
Starter (A/T)
R2
marker light
R3
Power windows
R4
Hazard and direction indicators
Engine compartment
The main fuse and relay box is located under the hood next to the battery. To access, remove the protective cover of the unit. The block itself will look something like this.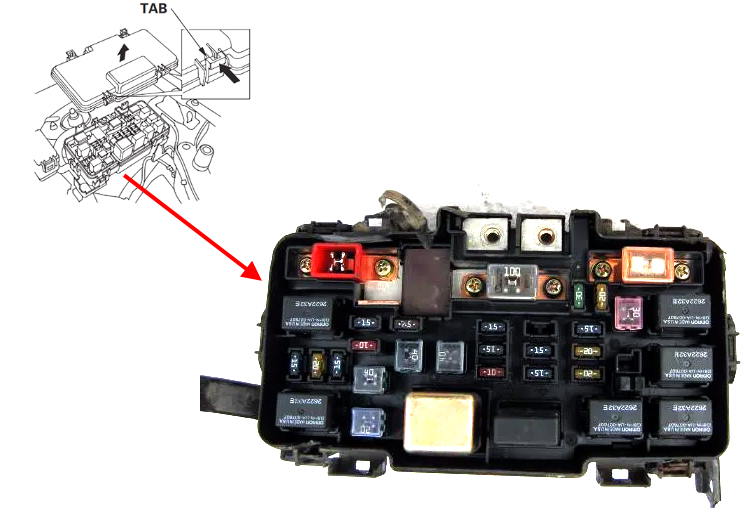 Diagram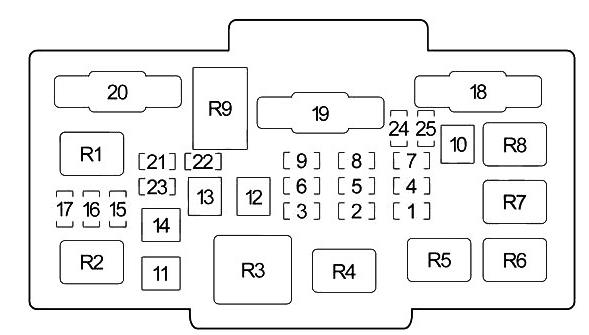 Appointment
1
20A A/C Compressor Clutch Relay, A/C Condenser Fan Relay
2
30A 2005-2006: Air-Fuel Ratio (A/F) Sensor Relay, Daytime Running Lights (DRL) Relay, PGM-FI Main Relay 1, Ignition Coil Relay, Fuses (Engine Compartment): 31, 32, 33, 34
15A 2002-2004: Tail light relay
3
15A Interior Lights, Front Dome Light, Ignition/Key Light, Rear Dome Light, Rear Wiper Control Unit, Spotlights, XM Receiver A Connector, Spotlights
4
20A Radiator fan relay
5
15A Hazard switch, trailer light connector
6
15A 2005-2006: Tail light relay
10A 2002-2004: Main Relay 1 PGM-FI
7
15A Stop Lamp (Brake Pedal Position Switch), Horn Relay
8
15A 2005-2006: Throttle Actuator Control Module Relay
9
10A Audio System, Reversing Light, Data Link Connector (DLC), Sensor Assembly, Immobilizer Control Unit, Keylees Receiver Unit, Multiplex Control Unit
10
30A Vehicle Stability Control (VSA) / ABS Modulator Control Unit
11
20A Rear defroster relay
12
40A Fan motor relay
13
40A Power window relay, fuses (passenger compartment): 7, 23
14
40A Fuses (in passenger compartment): 2, 3, 5, 15, 16
15
20A Left headlight, daytime running light (DRL) control unit, sensor assembly,
16
20A Power door interlock, multiplex control unit
17
20A Right headlight, daytime running light (DRL) control unit
18
30A Vehicle Stability Control (VSA) / ABS Modulator Control Unit
19
100A Battery, power distribution
20
50A Ignition switch
21
 —
22
 —
23
 —
24
 —
25
 —
Relay
R1
Left headlight
R2
Right headlight
R3
Fan motor
R4
Rear window heating
R5
A/C Compressor Clutch
R6
Radiator fan
R7
Horn
R8
Air conditioning condenser fan
R9
Electrical Load Detector (ELD) Unit