The 3rd generation Citroën Berlingo was produced in 2018, 2019, 2020, 2021, 2022, 2023, 2024. During this time, the model received a restyling. In this publication you can find a description of the fuses and relays of the Citroen Berlingo 3 with fuse box diagrams, their locations and photo examples of execution. Let's highlight the fuse responsible for the cigarette lighter.
The purpose of the fuses in the blocks, as well as their number, may differ from those presented and depend on the year of manufacture, the level of electrical equipment and the region of delivery of your car.
Passenger compartment
Fuse box
The main fuse box is located on the left side at the bottom of the instrument panel.
In right-hand drive vehicles, access must be removed by removing the protective cover or small items drawer.
The fuse box itself will look something like this.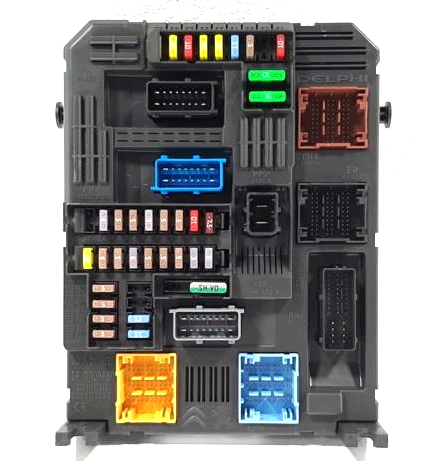 Diagram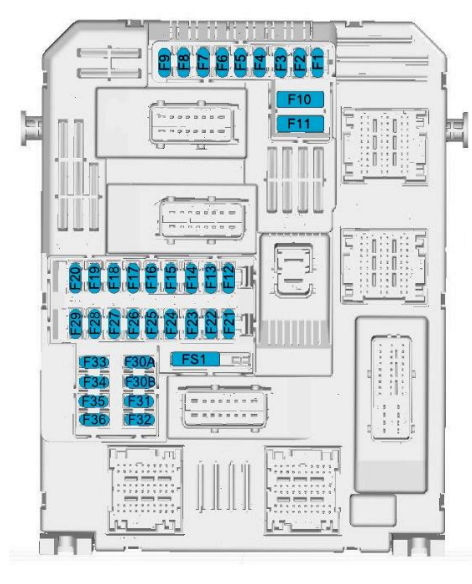 Assignment
1
Inductive charging, Interior mirror / Electric power steering wheel / Selective drive control / Radar / Diesel exhaust system
3
Wireless charger for smartphone
4
Signal
5
Window washer (front/rear)
6
Window washer (front/rear)
7
Rear USB socket
8
Rear wiper
10
Door lock/rear door lock
11
Door lock/rear door lock
12
Stop-Start System / Diagnostic Connector Module / Brake System
13
Infotainment system / Climate control system
14
Alarm siren
15
Automatic transmission, instrument cluster, climate control system
16
Stop-start/Brake system
17
Instrument panel
18
Parking assistant
19
Steering Column Electrical System / Steering Wheel Controls
21
Anti-theft alarm
22
Camera / Rain sensor / Automatic lighting control
23
Seat Belt Reminder, Control Module, Start Stop, Trailer Outlet
24
Touch Screen / Advanced Parking Assist / Panoramic View System

fuseandrelay.com

25
Air bag
26
Electronic stability control
27
Alarm / Parking heater
28
OnStar or BTA module
29
Infotainment system
32
Cigarette lighter/ front socket
34
Interior Mirror /Parking Assist
35
Light switch / diagnostic connector module / climate control
36
Lighting / USB
Fuse 32 is responsible for the operation of the cigarette lighter.
Fuse and relay box
This fuse box is located behind the main fuse box.
Photo example
Diagram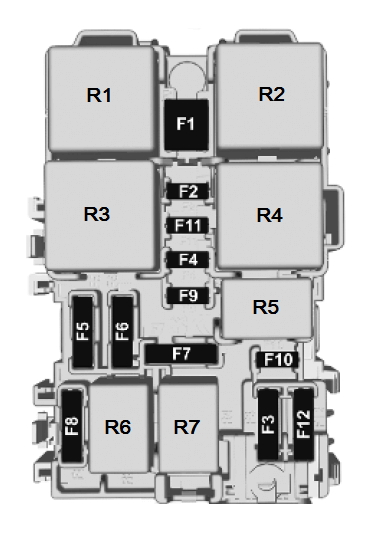 Designation
F1
Heater/rear window defroster
F2
Heated exterior side mirrors
F3
Power windows – front
F4
Folding side mirrors/Adjusting outside mirrors
F5
Power windows – rear
F6
Power outlet in trunk/Hatch
F7
F8
Fuse Box (Right Side of Dashboard)
F9
F10
Heated seats
F11
Front seat massage function
F12
Hi-fi amplifier
Relay
R01
Seat heating relay
R02
Power window relay
R03
Heater/rear window defroster relay
R04
–
R05
–
R06
–
R07
–
Engine compartment
Fuse and relay box
In the engine compartment, under the hood, on the left side, next to the battery, there is a fuse and relay box. An example of access is shown in the layout.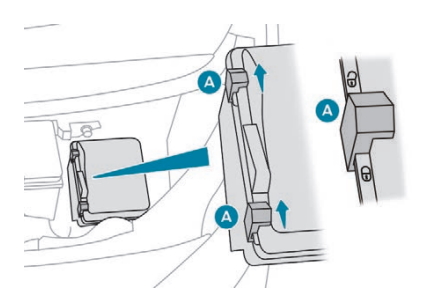 Photo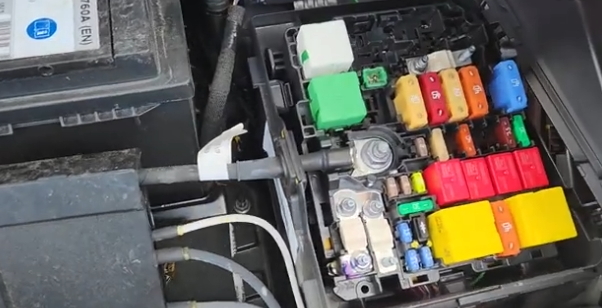 Diagram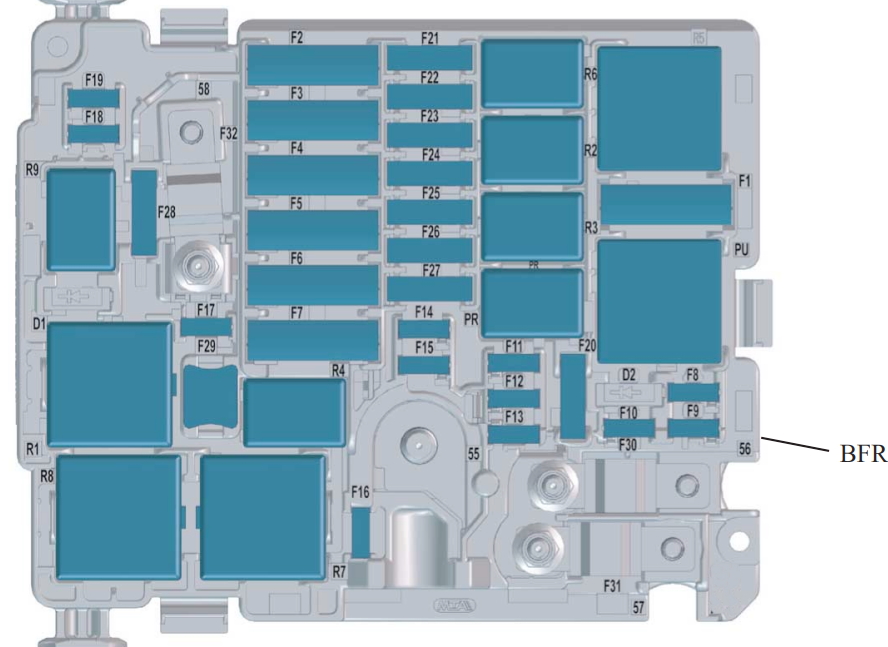 Allocation
F1
40A Air conditioner fan
F2
60A Computer ABS/ESP system
F3
80A Interior fuse box 3
F4
30A computer ABS/ESP system
F5
50A Intelligent Switch Unit (Right turn signals, front right side marker lights, right brake lights, left reverse lights, right fog lights.) 20A Heated windshield
F6
60A Two-speed cooling fan control unit (GMV) 20A BVA AxN8 calculator – BVA Ax6III calculator (thermal)
F7
70A Intelligent Switching Box
F8
15A Engine Control Fuel Pump, Pilot Controlled Thermostat – Oil Pump Solenoid Valve (EC Flush – Electrical Solenoid Valve – Intake Air Flow Meter – Oxygen Sensors (EP6FADTX), Pilot Controlled Thermostat – Switchable Water Supply, Electrical Solenoid Valve (EP6FDT) 20A Computer engine (for EB2DT or EP6FDT) l Controlled booster pump (for DV6F or DW10F)
F9
15A Piloted lift pump (DW10F), intake and exhaust valves v solenoid valves – Piloted thermostat – Oil pump solenoid valve (EC flush – Electrical solenoid valve – Intake air flow meter – Oxygen sensors (EP6FADTX), Piloted thermostat – Switchable Water Supply Electric Solenoid Valve (EP6FDT)
F10
15A Engine Computer – Diesel Flow Control Pump Solenoid – Turbocharger Pressure Control Solenoid Valve (DV5R and DW10F) – Thermostat S (DV5R) – Purge Heater – Adjustable Intake and Exhaust Valve Solenoid Valves (EP6FADTX) – Cylinder Flush – Oxygen Sensors Raised (EB2ADTS ) )
F11
20A Engine computer
F12
5A Instruments – GMV relay – Istars – DMTC, electric water cooling with turbocharging (EB2ADTS and EP6FADTX), intelligent service unit (EP6FADTX)
F13
5A Intelligent Switch Box
F14
5A Battery charge level block
F15
20A Electrically heated windshield
F16
15A Fog lights 10A Daytime running lights
F17
10A GMP relay diagnostics BFRM – BSI1 – Engine computer – Lower Nox sensor (injectors DV5R and DW10 (DV5R)
F18
10A Right headlights high beam
F19
10A Left headlights high beam
F20
30A Engine computer l Charge pump (for ER6EDT) – ignition coils (EB2ADTS and EP6FADTX)
F21
30A Starter
F22
40A Reserve
F23
40A Starter/ Alternator
F24
40A Fuse box in passenger compartment 5
F25
40A Interior fuse box 3
F26
15/20A Heater
F27
25A Intelligent Switching Unit (Right Low Beam Headlight – Right Reversing Lights – Left Fog Lights – Left Rear Parking Lights – Third Brake Light.)
F28
30A Power supply for urea pump and urea tube heating resistor (UCE or DV5R) – Nox sensor (DW10F) – Engine computer (EP6FADTX) – (BlueInjection, AdBlue)
F29
40A Windshield wiper
F30
80A Pre-heating unit
F31
80A Switching and protection unit
F32
80A Power steering, Left low beam headlight – Static turn lights – Side turn indicators – Left turn indicators – Front left and rear right side lights – Left brake lights – License plate lights.
Relay
R1
Engine control computer / Euro6 diesel (SCR module power supply)
R2
Air Conditioning Compressor/Heated Windshield
R3
Starter / thermal preconditioning

fuseandrelay.com

R4
Fog lights/ daytime running lights
R5
Air conditioner fan
R6
Starter
R7
Front wiper
R8
Front wiper
R9
Headlights
Battery fuse box
A high power fuse box is attached to the positive terminal of the battery.
Diagram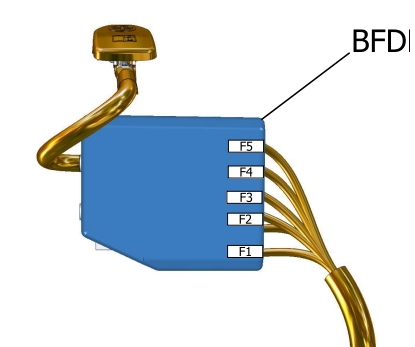 Appointment
60A – Electrical control unit for two-speed fan motor
100A – Fuse box
80A – Power steering
80A – Interior fuse box
80A – Interior fuse box
If you find a mistake or have something to add, write in the comments.