Updated Chevrolet Aveo, Chevrolet Sonic and Chevrolet Sail were produced in 2016, 2017, 2018, 2019, 2020, 2021, 2022 with various body styles. In our post you will find a description of the Chevrolet Aveo Sonic Sail fuses and relays with fuse box diagrams, their locations and photo examples of performance. Select the cigarette lighter fuse.
The purpose of the fuses and relays may differ from the one shown and depends on the year of manufacture, the level of equipment and the region of delivery of your car.
Passenger compartment
In the salon, the fuse and relay box is located at the bottom of the instrument panel behind a protective cover on the driver's side.
Diagram
Assignment
DLIS
DLC

Safety bag

Backdoor

Spare fuse

Body control unit

Body control unit

Body control unit

Body control unit

Body control unit

Body control unit

Body control unit

Body control unit

IPC
ONSTAR
ULTRA PARKING ASSIST

Driver Information Center

Audio

Trailer

VLBS
CHEVYSTAR

Heating, ventilation, air conditioning

HDLPALC

Clutch

IPC-AOS

Airbag travel / start

Running relay

Rear door relay

Trailer travel / launch

Clock spring

Heating, ventilation, air conditioning

Spare fuse

Roof ventilation hatch

Cigarette lighter

Spare fuse

Rear power window

Front power window

RAP/ACCY
DCDC CONV

Driver's door power window

PTS 2

PTS 1

Battery connector.
The fuse number 34 is responsible for the cigarette lighter, 20А
DLC – diagnostic connector;

IPC and IPC-AOS – controllers;

ONSTAR – navigation system;

ULTRA PARKING ASSIST – parking assistant (parktronic or camera, depending on the configuration);

CHEVYSTAR – Chevrolet-Aveo satellite system;

RAP / ACCY – heating and air conditioning system;

DCDC CONV – transformer.
Engine compartment
Under the hood, a fuse and relay box is installed next to the battery and closed with a protective cover.
Location
Check the designation of the elements with your diagrams on the back of the protective cover.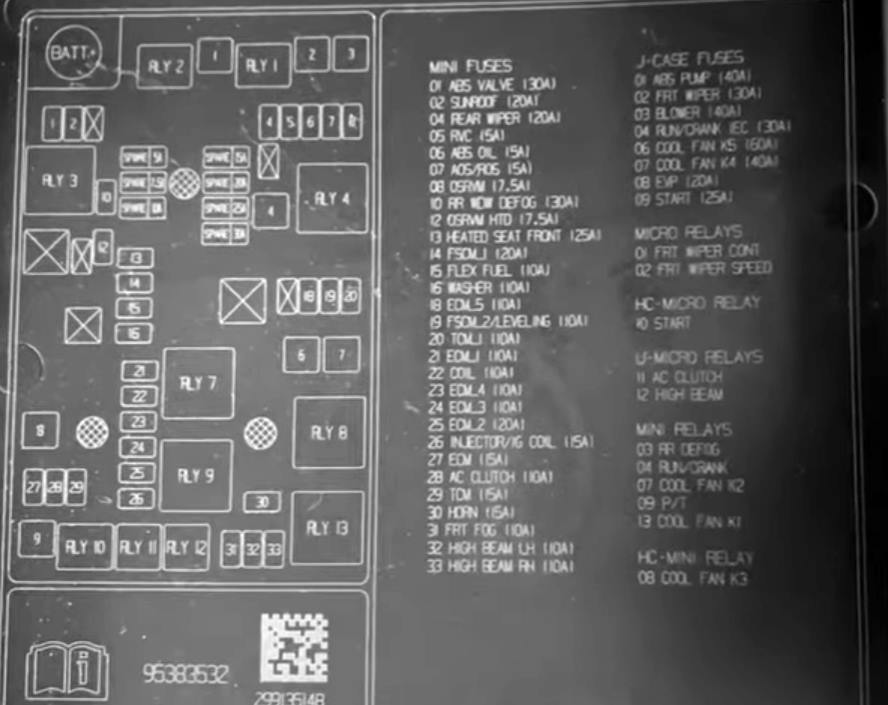 Diagram
Allocation
Front wiper speed relay

ABS pump

Front wiper control relay

Front wiper

Blower fan

ABS valve

Roof ventilation hatch

 –

Rear window wiper

Alternator voltage regulator

SECTION

AOS / ROS

Outside rearview mirror

Heated rear window relay

Heated rear window

Spare fuse

Spare fuse

Spare fuse

Spare fuse

Spare fuse

Spare fuse

Spare fuse

 –

IEC Stroke / Start

Relay run / start

 –

 –

Heated outside rearview mirror

 –

Heated front seats

 –

Fuel flow

Washer

Fuel pump relay

Fuel pump

Engine / Transmission Control Module

 –

 –

Cooling fan K5

Cooling fan K4

EPP

ESM

Air conditioner coupling

themes

ESM_1

COIL

ESM_4

ESM 3

ECM2

Injector

Relay P / T

Sound signal

Cooling fan relay short circuit

Start

Start relay

A / C clutch relay

High beam relay

Front fog lights

Main beam left

High beam right

Cooling fan relay K1.
We have also posted a video for this post on our YouTube channel. Watch and subscribe to the channel.
If you know how to make the material better – write in the comments.