BMW 3 F30 represents the sixth generation of the BMW 3 which went on sale in 2012. The complete lineup includes the F30 sedan, the F31 station wagon and the F34 sloping roof model. M3 – F80. This series was produced in 2013, 2014, 2015, 2016, 2017, 2018. We will provide information on the locations of the fuse and relay boxes of the BMW F30 with their diagrams and photo examples. Let's single out the cigarette lighter fuse, and in conclusion we will offer for review the electrical circuit of the BMW F30.

Engine compartment
Fuse and relay box
It is located under the hood, on the right side of the engine compartment, closer to the windshield. To access, remove the protective cover.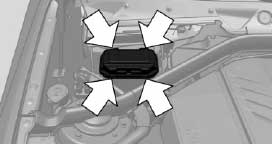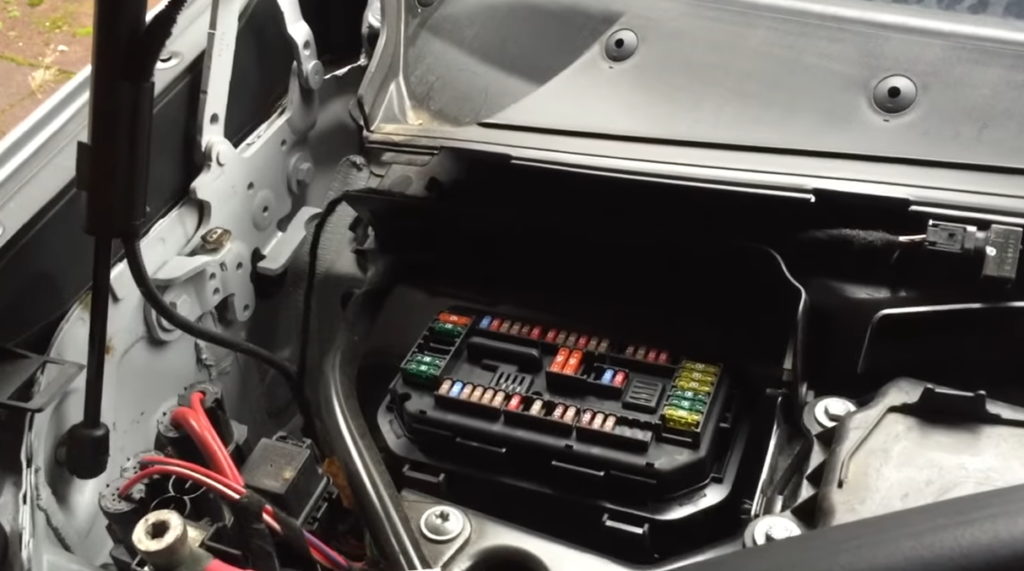 Diagram
Assignment
18
15A Diagnostic connector
19
10A Engine control
20
5A Audio control unit, roof electronics
21
5A Control unit
22
7.5A Door locks
Passenger rearview mirror, interior lighting
23
10A DDE main relay
24
Electronic automatic transmission (EAT) control unit, 4*4
25
5A Touchbox, audio
Body control unit, abs, praking
26
5A Seat heating
27
10A Driver/passenger seat lumbar support valve block, driver/passenger side seat adjustment switch block
28
5A Front left lamp
Front right lamp
Rain sensor
Interior lighting
29
5A Coolant pump
30
31
32
Transfer box, security system
33
15A Coolant pump
Air conditioning compressor
Additional water pump
34
10A Safety system, seat belt
35
36
40A
37
40A
38
39
40
15A Headlights, outdoor lighting, dimensions
41
10A
42
Electrochromic rearview mirror
43
44
5A Driver support systems based on a video camera, active steering system
45
5A Cruise control
46
5A Crankcase ventilation heater
Coolant shut-off valve, louvre
47
5A Night vision electronics (NVE), vehicle sound generator (VSG)
48
10A Steering column switches
49
50
5A Instrument cluster
51
52
7.5A Instrument cluster
53
5A Glove box lighting, instrument panel trim strip lighting (driver/passenger side), instrument panel trim strip lighting on driver's side, driver/passenger footwell lighting
54
7.5A Selector switch
55
5A Electronic power steering (EPS)
56
5A Air quality sensor, ventilation system
57
40A Fuse box, Headlights, outdoor lighting, dimensions
58
30A Dynamic Stability Control (DSC)
59
60
61
62
30A Retractable roof
63
30A Transfer box
64
20A Front passenger seat heating module
65
20A Driver seat heating module
66
20A Cigarette lighter
67
30A Driver's seat control unit
Driver seat adjustment
68
30A Passenger seat adjustment
Passenger seat control unit
69
20A 12V socket
70
20A Heating
Fuses 66 and 69 for 20A are responsible for the operation of the cigarette lighter.
Power fuse box
A power fuse box is installed next to the fuse and relay boxes
Diagram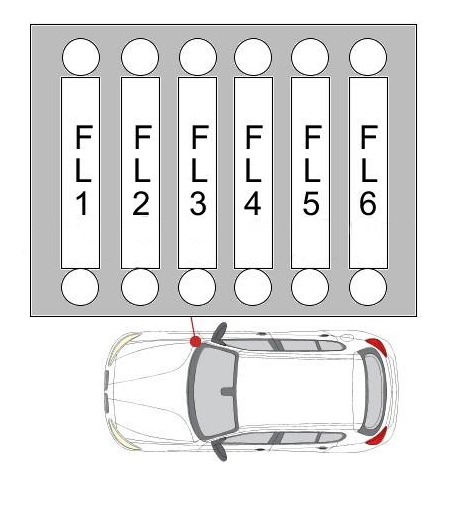 Designation
FL1 – 50/80/125A Trip relay
FL2 – 125A Electronic power steering (EPS)
FL3 – 100A Additional heater
FL4 – 40A Heated fuel filter
FL5 – 40A Dynamic Stability Control (DSC)
FL6 – 40A Fan motor
Relays and fuses of the DDE unit and a 50A fuse for the coolant pump, relay of the electric fan K5 can also be installed nearby.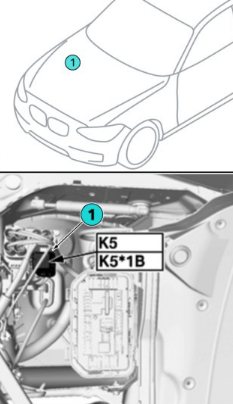 Passenger compartment
Fuse box
Fuse and relay box is located on the A-pillar on the passenger side.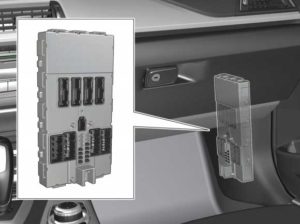 Scheme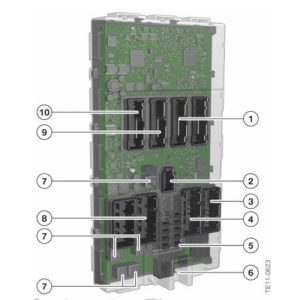 Allocation
54 pin connector

12 pin connector

42 pin connector

54 pin connector

Circuit breakers

Connector (1-pin, plus terminal)

Relay

54 pin connector

54 pin connector

54 pin connector
Fuses
Diagram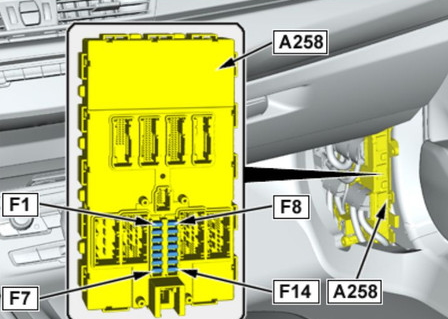 Photo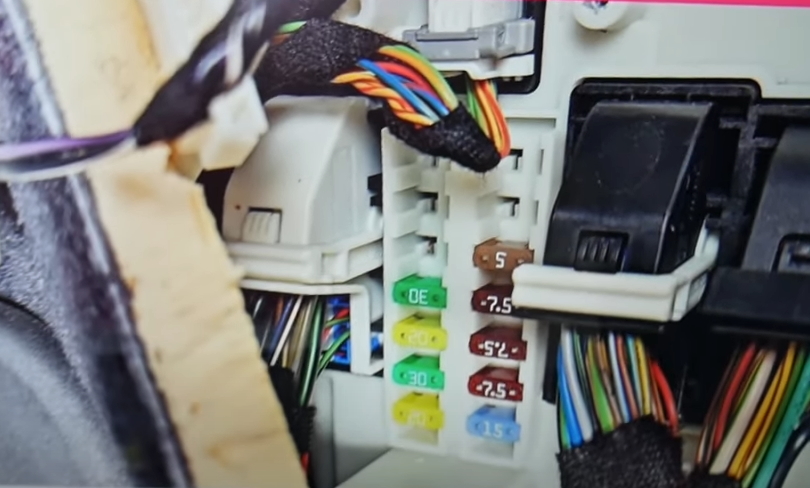 Appointment
1
2
3
4
30A Passenger Power Window
5
20A Central locking
6
30A Power window driver
7
8
9
10
5A Control panel
Driver assistance system
Heating, ventilation and air conditioning (HVAC)
Light switch
11
7.5A 5Rear module
Left headlight
12
7.5A Diagnostic connector
13
5A Telematics
14
15A Horn
Relay :
driver's power window

front power window

central locking

headlight washers

starter

horn horn

wiper at speed 1/2.
Luggage compartment
There can be three fuse boxes in the luggage compartment. Two blocks (power fuse box and fuse box) are located behind the casing on the right side, near the battery.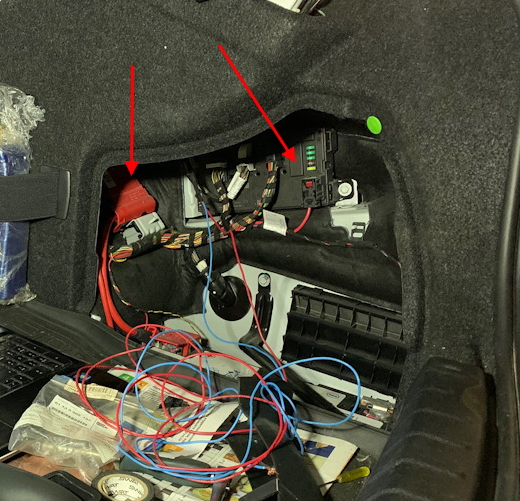 The other is centered under the covery. More details in the video below.
Your exact fuse diagram is folded under the boot floor, inserted into a special place on the top fuse box (rolled paper). We provide one of the versions for review.
Diagram
Decoding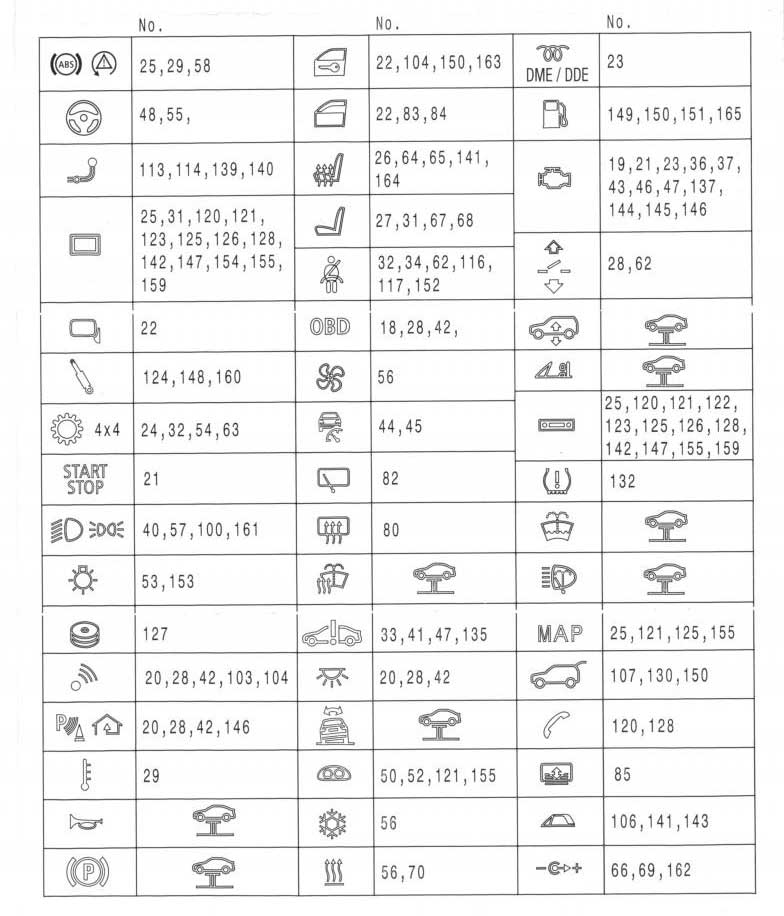 Power block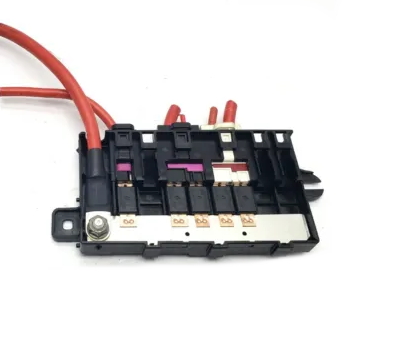 50A Rear module
100A Fuse box
100A Power Distribution
125A Main relay
125A Integrated power module
Additional Information
If you have any questions with access to the presented fuse and relay box, watch this video.